News
Once-in-a-century sea levels could flood coastal areas in eastern Denmark
---
This article is more than 6 years old.
Those living on low-lying areas by the Baltic Sea are most at risk, warns DMI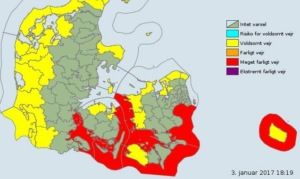 The Danish Meteorological Institute (DMI) has warned those living on low-lying areas along the Baltic Sea coastline to beware of flooding as sea levels are expected to be much higher than usual tomorrow – so high in fact, it is predicting levels only seen once every century.
The areas most at risk (marked in red on the map) over the course of Wednesday night are the eastern, western and southern coastlines of every Danish island situated in the south, along with Funen and Zealand – not so much its northwestern and northern coastlines, but certainly its eastern one as far north as Copenhagen.
Unwanted centenary
DMI has described the anticipated 1.3 to 1.8-metre rise in sea level as a 'hundredeårshændelse' (centennial event).
It is the result of a change in wind direction that will blow excess amounts of seawater from the Skagerrak and Kattegat, where it has been pushed by winds from the northeast, into the Baltic.
More gales tonight
Meanwhile, thanks to gale-force winds of up to 30 metres per second that will mainly affect the west coasts of Jutland, Funen and Zealand, along with Lolland and Bornholm, much of the country is in for another testing night.
DMI spokesperson Thyge Rasmussen has called for particular caution on the roads, and for drivers to be wary of strong gusts that could "tear down tiles and topple trees".