Business
Airline offering "incredibly low" prices from Denmark to the US
---
This article is more than 6 years old.
New growth strategy has Icelandic low-cost airline WOW slashing prices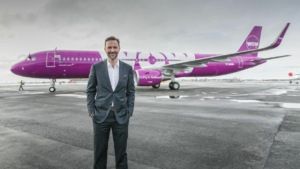 WOW, a low-cost airline based in Iceland, announced on Tuesday that it is cutting fares to four destinations in the US and Canada.
Travellers from Copenhagen can fly to Los Angeles, San Francisco, Toronto and Montreal for just 599 kroner. Tickets are already on sale.
WOW founder and head Skuli Mogensen said the price cuts fit with his company's philosophy.
"It is our mission to continue to cut prices," Mogensen told BT. "We have delivered low prices from day one, and we will continue to do so."
Everyone can fly
The current lowered fares are for trips made between January 15 and April 5. Mogensen said that he hopes that the company can continue to keep prices low.
"My mission is to make it so inexpensive that everyone can afford to fly," he said.
Mogensen said that the low fares are part of WOW's strategy to increase the company's share of the Danish market, where he sees "great potential".
Pack light
The trips to the US and Canada include a stopover at Keflavik Airport in Iceland, and the published fares are for hand luggage only.