News
Thousands expected at Women's March Copenhagen on Saturday
---
This article is more than 6 years old.
Procession will begin and end with speeches by a line-up that includes activists and the US deputy ambassador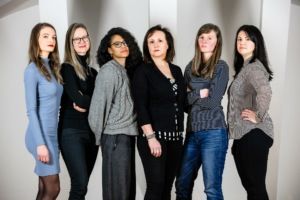 This Saturday at approximately 14:00, Copenhageners will gather outside the US Embassy in Østerbro to peacefully march together in unity and solidarity across the city to the Danish Parliament in support of minorities and other marginalised groups.
The Women's March Copenhagen is one of 616 sister marches taking part worldwide on January 21 in solidarity with those on the Women's March Washington in the US capital a day after the inauguration of new president Donald Trump. Despite the name, men are absolutely welcome to take part!
More than 1.36 million people are expected to march worldwide. After London, Brussels, and Paris, Copenhagen is expected to be the fourth largest march in Europe with well over a thousand participants.
Inspired to act
The event is being organised by six American women living in Denmark who have been inspired by different protests taking place in the US mainly due to the frustration and anger with the result of the November election.
"We want to shed light on the reality of how xenophobic, misogynistic and racist rhetoric and actions destroy everyone's sense of well-being and community," their leader Rebecca Rutt told CPH POST.
"We expect to form a community of activists to fight racism and the rise of right-wing populism," added Elizabeth Williams-Oerberg.
"The march will give women a platform to tell their government and the world that we demand equal rights," contended Karen Covington.
Diverse list of speakers
Both at the US Embassy before the march and at Christiansborg, those gathered can listen to a diverse mix of speakers, including activists, politicians and representatives of organisations working with gender and equality issues.
Among the speakers outside the US Embassy are: Laura Lochman, the deputy US ambassador; David Miller from Democrats Abroad;  and Angolan queer activist Ayun.
Among the 13 speakers at Christiansborg are: Julia Suarez Krabbe, an associate professor at Roskilde University working in the area of racism, human rights and education; Nazila Kivi, the editor of Friktion who also writes for Politiken; Katrine Blom, the chair of Everyday Sexism Project Danmark; and Bwalya Sørensen from Black Lives Matter DK.