News
Denmark wants boots on the ground against IS
---
This article is more than 6 years old.
Danish special forces could be deployed at the dangerous Iraq-Syria border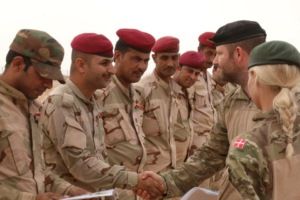 According to Politiken newspaper, the government will today seek majority support to insert special forces at the border between Iraq and Syria as part of the ongoing struggle against Islamic State (IS).
Politiken, which has obtained the information from unnamed sources, said that the defence minister, Claus Hjort Frederiksen, and the foreign minister, Anders Samuelsen, would bring up the issue at a foreign meeting with the Foreign Policy Committee today.
A number of parties reportedly met yesterday for a briefing at the Defence Ministry, and the briefing was of a nature serious enough to warrant asking the politicians to part with their phones before entering the meeting room.
READ MORE: Denmark pulls fighter jets from Iraq and Syria
Return fire 
The Danes have been training Iraqi forces for the last year, and in December its deployed troops were given the mandate to return fire if fired upon as a measure of defence.
Parliament has so far refused to discuss the issue ahead of today's meeting.
Following the decision to withdraw its F16 fighter jets, Denmark's presence in Iraq and Syria currently consists of just training and construction troops.