News
Denmark part of Arctic conference for a sustainable future
---
This article is more than 6 years old.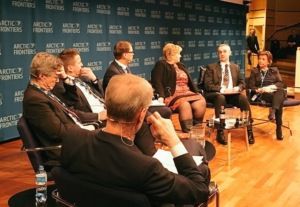 There is little doubt that the frozen tundra and icy waters of the Arctic will become one of the most important geo-political issues in the future, if it isn't already.
The Arctic Frontier Conference, held in Tromsø in northern Norway this week, aims to ensure that the intensification of development in the region embraces a sustainable approach. Denmark's minister for equality and Nordic co-operation, Karen Ellemann, is taking part in the proceedings.
"The consequences of the global climate changes are obvious in the Arctic Region – a region that only contributes minutely to the reasons for these changes," said Ellemann.
"It is in the best interest of the Arctic states, with support from the international community, to find the right balance between economic development and the protection of the environment. That includes respecting the way of life of the indigenous population."
READ MORE: Eastern Greenland saw record-high temperatures in 2016
No denying it
Given its vast resources hidden underground, the opening of shipping lanes as ice caps recede and its burgeoning tourism potential, the Arctic region is facing significant development.
The conference comes in the wake of the news that last year brought record-high temperatures to most of the east coast of Greenland.
November was the month with the largest deviation, with temperatures coming in at a full 7.9 degrees above normal.