News
Danish research finds success in early postnatal depression diagnosis
---
This article is more than 6 years old.
Discovery of symptoms four months before birth could drastically impact treatment in the future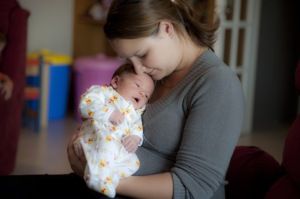 Researchers from Denmark have discovered that postnatal depression can be discovered months before the actual birth of a child.
Until now, postnatal depression has only been diagnosed after a birth, but now that the discovery has revealed that symptoms can actually be seen four months before a birth, treatment can be received earlier in the future.
"It means we can get started with treatment, support and help so the family won't be burdened when the child is born," Svend Aage Madsen, a chief psychologist at the city hospital Rigshospitalet and head of the group behind the project, said according to DR Nyheder.
READ MORE: Mothers receiving fertility treatment in increased risk of developing depression
Getting help early
For the past 18 months, a number of doctors have screened 1,206 expectant fathers in the 24th week of pregnancy (about four months before birth) and found that 11 percent of women and 8 percent of men had, or were in danger of getting, a postnatal depression.
Families showing symptoms were immediately given psychological treatment, and for many patients, the problems were sorted out or reduced before their child was born.
Postnatal depression (also known as postpartum depression) is a clinical depression that can impact on both sexes following childbirth. Symptoms may include sadness, anxiety, irritability, sleep and eating pattern changes, lacking energy and a reduction in sexual desire.