Things to do
Panto-hater still an unconverted killjoy vs six-year-old's unbridled joy
---
This article is more than 6 years old.
The Copenhagen Theatre Circle's pantomime has a new fan, but some reviewers are impossible to please!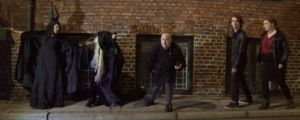 If there are any benefits to watching pantomime in the UK, one would be seeing your favourite has-beens from 1990s soap operas and children's TV, but alas, you won't see Rod, Jane and Freddy or anyone from 'Home and Away' in this latest CTC production. You will, however, get the regular panto staples, albeit on a budget, from cross-dressing actors to audiences emphatically pointing out who is standing behind who.
Scripted in between Windows NT and XP
The scrappy narrative premise takes us to the Transylvanian mountain village of Cemetaria where the landlady Dame Bloodengutz is hosting guests competing in a mad scientist competition. Doctor Frankenstein is favourite to win with his creation of a monster, but Count Dracula, and his ambitious Bride, intend on sabotaging that creation and scooping the prize with their Zombificator ray gun.
With gags about Windows computer viruses and Simon Cowell, this feels like panto written for an audience from 15 years ago. Not even side-swipes at Donald Trump (while appreciated) can help rectify the feeling that the script has been six feet under since 2002 (at the latest).
Some top-notch acting and singing
On the other hand, at least half the cast gives it some welly, in spite of the limitations set by their material. The cast's abilities are wildly uneven, but Nicole Wardell as Frankenstein, Mario Paganini as Dame Bloodengutz and Tai Birkholm Segel as the henpecked Dracula are particularly enjoyable, the latter apparently channelling Adam Sandler's Count from the animated Hotel Transylvania films.
Albin Hagmayer lends full-blooded karaoke vocals to The Wolfman (who later, inexplicably, transforms into a ballerina), and Frankenstein's Monster is given a genuinely surprising and touching twist by the casting of young Olivia Schaetz.
Championship darts for the children
There was little here to persuade my toes to uncurl – that was until I looked at my six-year-old daughter sitting beside me. She was dancing in her seat through the musical numbers (again, all of a distinctly retro flavour, mostly lifted from 80s/90s films: from 'Ghostbusters' to 'Titanic') and bellowing her 'It's behind you' with full gusto.
And ultimately of course, that is the litmus test of any pantomime. Laughs for the grown-ups are expendable (there are some here, but they're mostly thanks to the cast rather than the writing) and when the kids are this entertained, you're likely to forgive a lot. I recommend parents order a stiff drink during the interval. It helped.
On leaving the Kruttønden theatre, my daughter caught sight of the poster. "Is it February yet?" she asked. "No," I replied. "That's when the show ends." Her eyes widened: "Woah, can we come and see it every day??"
So, I won't give the star rating – that comes courtesy of my daughter.