News
Denmark maintaining focus on Ukraine's challenges
---
This article is more than 6 years old.
Strengthened civil society, transparency and tackling corruption on the agenda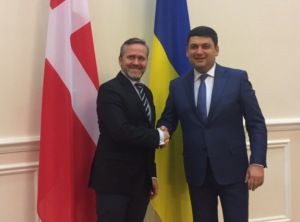 The foreign minister, Anders Samuelsen, is currently in Ukraine discussing ongoing reforms and meeting with the Ukrainian government and civil society.
Samuelsen will also visit east Ukraine, where conflict with Russian-supported separatists in still ongoing, to meet Danish OSCE observers and international organisations working at the front line.
"With the visit I intend to send a clear signal that Denmark still stands side by side with Ukraine in the conflict with Russia," said Samuelsen.
"The eyes of the world rest on other wars and conflicts, but Ukraine still needs the support of Denmark and the EU. We must support Ukraine's right to choose its own European destiny and maintain pressure on Russia."
READ MORE: Denmark to lead anti-corruption initiative in Ukraine
Curbing corruption
Since the Maidan uprising in 2014, the Ukrainian government has undertaken a number of comprehensive reforms, including with its energy sector and public administration. But problems in Ukraine, such as widespread corruption, remain considerable.
As of February 1, Denmark will lead a new massive EU anti-corruption program in Ukraine and the Danes continue to support Ukraine's civil society and media, which are important watchdogs in terms of corruption and abuse.
Denmark is the least corrupt country in the world – in contrast to Ukraine, which ranks at number 131 and is the most corrupt country in Europe … along with Russia.