General
Ballet Review: Finishing touches give 'The Snow Queen' a special shine
---
This article is more than 6 years old.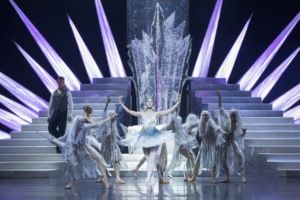 To mark its country's 100 years of independence, the Finnish National Ballet gave four wondrous performances of 'The Snow Queen' at the Opera House over the weekend.
The guests of the Royal Danish Theatre even brought their prime minister, Juha Sipilä, to the premiere, and he sat enthralled alongside Queen Margrethe II and her consort Prince Henrik and other dignitaries.
It is impossible to overstate what a special experience it was to admire the artistry of this balletic adaptation of Hans Christian Andersen's famous fairy-tale. As Gerda's grandmother observed just minutes into the first performance: "So many stories start with once upon a time and this is one."
Watching royalty in the presence of royalty, it really was a fairy-tale.
A neverending friendship
Its brilliant beginning introduced us two childhood friends, Gerda (Salla Eerola) and Kai (Michal Krčmář), who are quickly divided when Kai is kidnapped by the evil ruler of snow and frost. A little piece of the Snow Queen's beloved magic mirror ends up in his eye and he disappears.
Gerda hits the road to find him, passing Sweden, Spain, Russia, and Japan along the way – all perfectly presented by national dance and costumes – until she finally arrives in the north.
Standout scenery
Among the standout scenography, the town square, icy castle, scary forest and Finnish sauna were definite highlights. And sparkly special effects did an excellent job at conveying the wintry conditions of the setting, as did the twinkly costumes of the dancers.
Performing to the recorded music of the National Finnish Opera Orchestra, some ravishing pas de deux with strong support from the huge ensemble really brought this story of friendship and love to life.
A Segway steals the show
The recurring pas de deux of Gerda and Kai brought classical elegance to the proceedings, while the entrance of  the Snow Queen on a Segway brought some comic relief.
And there was even some interaction, as audience members raised their 'magic lights' (cunningly distributed during the break) to help destroy the icy power of the Snow Queen and rescue Kai from her clammy clutches.