News
SAS to establish bases in the UK, Spain and possibly Ireland
---
This article is more than 6 years old.
Airline also gets operation permit in Ireland in a bid to reduce its wage costs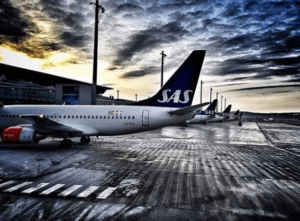 In a bid to remain competitive in a growing travel market, the Scandinavian airline SAS has decided to establish two bases outside Scandinavia in the UK and Spain.
Furthermore, SAS has also be granted an AOC (Air Operator's Certificate) from the Irish authorities, which will allow the airline to operate out of Ireland at considerably reduced wage costs.
"In line with SAS's strategy of focusing on those customers who travel frequently to, from and within Scandinavia, the majority of SAS's airline operations will continue to be based in Scandinavia moving forward," said Rickard Gustafson, the CEO of SAS.
"The establishment of new bases means we can complement our Scandinavian production and, in time, build an even broader network with a superior schedule to the benefit of our customers."
Jacob Pedersen, a chief analyst at Sydbank, told DR Nyheder that SAS could save up to 40 percent on its wage bill by hiring personnel from nations outside Scandinavia.
Having bases outside Scandinavia, a move that low-budget airline Norwegian has already made, will permit SAS to hire pilots and cabin staff for wages drastically lower than those agreed under Scandinavian wage agreements.
The new bases are expected to be operational sometime in late 2017 or early 2018.