News
Royal Arena looking like a traffic nightmare
---
This article is more than 6 years old.
City Hall urges concert-goers to ride the Metro to see Metallica 'Ride the Lightning'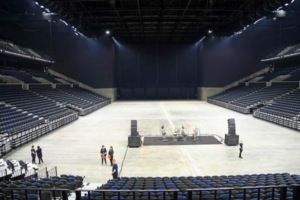 When Metallica opens the Royal Arena on Friday, the iconic metal band might as well play 'Frustration' as an ode to the late Lou Reed … to echo the sentiment that many motorists in Copenhagen will be feeling at the time of the concert.
That's because, despite a strong start that will bring the likes of Rod Stewart, Bruno Mars, Aerosmith, Drake, The Weeknd, John Mayer and Celine Dion to town, it's also expected to cause terrible traffic congestion.
With a capacity of 16,000, traffic on the Øresund Motorway and in the Ørestad area could be impacted, and Copenhagen Municipality is looking to meet with the police, the Metro Company, Royal Arena, Field's shopping mall and other central players in the area to evaluate the traffic situation.
"When we have some specific experiences, we can take steps to optimise the traffic," said Steffen Rasmussen, a spokesperson for the Technical and Environmental Department at City Hall.
"For instance, we can adjust the signal programs to produce a better traffic flow and get cars quicker off motorway ramps by changing the green light duration. And the road authority, Vejdirektoratet, can inform motorists about queues to minimise the risk of accidents."
READ MORE: Metallica to open new Royal Arena venue
Metro to Metallica
In the future, the Royal Arena is expected to on average host a concert or event every four days, starting with four Metallica concerts on February 3, 5, 7 and 9.
Concert-goers heading to the Royal Arena are urged to take public transport or to cycle when possible. Ørestad Station and Vestamager Station are both within walking distance from the arena.
Traffic is expected to be particularly fierce near Hannemanns Allé, where the Royal Arena is located, but also the Øresund Motorway at the exit ramps by Ørestad and Field's, and on Center Boulevard and Ørestads Boulevard.