News
Electric car sales grinding to a halt in Denmark
---
This article is more than 6 years old.
Just five cars sold in the first month of 2017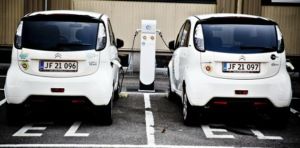 Denmark might pride itself on being a global leader within sustainability, but when it comes to making the green transition on its streets and motorways, it's failing miserably.
During the first month of 2017, just five electric cars rolled onto Danish roads – and not one of them was privately purchased. Opposition parties demand immediate action.
"This is an untenable situation," Radikale's spokesperson on tax issues, Martin Lidegaard, told DR Nyheder.
"The electric car market in Denmark has been laid in ice and nothing is going on. It if were up to us, we would freeze the registration tax on electric cars at 20 percent."
READ MORE: Municipalities dropping electric cars with return of registration tax
Killer tax, dude
Things have gone downhill quickly for the budding electric car industry in Denmark since 2015, when the government decided to phase back the registration tax on electric over a four-year period.
The returning registration tax means new buyers paid 20 percent of the registration tax in 2016, followed by 40 percent, 65 percent and 90 percent over next three years.
Electric car sales stagnated last year, and with the tax going up to 40 percent on January 1, it's all but shrivelled up and perished. Sales for January 2017 are the lowest they've been for the first month of the year since 2010.
Later today, politicians will meet at the Tax Ministry to discuss the 2015 agreement and perhaps make some amendments.