News
Everyone's a winner at the Danish answer to the Oscars
---
This article is more than 6 years old.
'Der kommer en dag' the big winner at this year's Roberts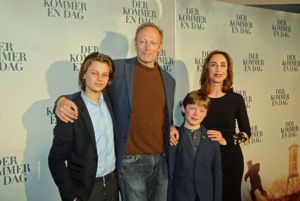 Only 22 Danish films were released at the cinemas last year. This year there will be 26.
But that doesn't stop the cream of the local movie world congregating for not one, but two award shows every year to celebrate the best of Danish film.
Denmark's Oscars
Over the weekend it was the turn of the Roberts, Denmark's answer to the Oscars, if only because its rival, the Bodils, are voted for by the country's film journalists – all 40 of them – and accordingly compared to the Golden Globes.
Nevertheless, there tends to be an unerring familiarity every time the nominee lists are announced – the duplicate rate in most categories is 80 percent – and the overall result is that there are an awful lot of gongs up for grabs.
Plenty to go around
This year's Roberts were perhaps missing a bit of glamour owing to Denmark's Oscar-nominated films for 2015 and 16 – 'Krigen' ('A War') and 'Under sandet'  ('Land of Mine') – both qualifying for last year's awards.
And that left the door open for 'Der kommer en dag', starring Sofie Gråbøl (Sarah Lund in 'Forbrydelsen') and Lars Mikkelsen (Petrov in 'House of Cards'), to scoop six awards.
Still, hardly anyone goes away empty-handed from the Roberts, with all of the other best film nominees – 'The Neon Demon' (five awards), 'Forældre' (three), 'Kollektivet' (two) and 'I blodet' (one) – also picking up silverware.
Everyone knows a winner
With the Bodils yet to come, we defy anyone in Denmark to not be within the Kevin Bacon six degrees of separation from a winner.
In CPH POST's case we didn't have to look very far. The winner of best production design was Sabine Hviid, the wife of our former film editor and sometime contributor Mark Walker.