Business & Education
Try as the Danes might, world rugby's hallowed ground looks more distant than ever
---
This article is more than 6 years old.
With a world ranking of 87 and a divisional set-up Houdini would struggle to escape from, will the national side ever get another chance to qualify for a World Cup?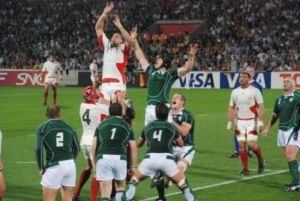 American football, Aussie rules, gaelic football, kabbadi – get on public transport anywhere in Denmark and you're going to be within ten metres of an international sportsperson. It's like rats in London!
Twickenham on their radar
This weekend, three men will put their arms around each other, while another two will rub their heads up against their posteriors, reach under their legs and grab them … just above the groin. No, the Village People aren't reforming, this is the formation of a scrum and one of many in this year's Six Nations.
At the end of the last century, it didn't look like a bum steer that Denmark might one day rub shoulders against the likes of England and France. In fact, they were playing Six Nations side Italy, and also Russia and Georgia, for a place at the 1999 World Cup. And while they lost all six of their qualifiers, three years later the national side celebrated an unbeaten year of rugby and reached a record-high world ranking of 36. Things were looking promising.
The road to nowhere
Today, however, they are languishing at number 87. They are effectively playing in the fifth tier of European rugby – an inaugural season after a thorough shake-up of the system.
Currently third in the five-team Conference 2 North, the chances of promotion to the top 12 of European rugby (firstly as the winners to the five-team Conference 1 North, and then as the winners of a north/south playoff to the six-team trophy division, and finally as the winners to the six-team premier division) are slimmer than ever before.
Their current standing effectively places them 34th in Europe, a far cry from their heady days at the turn of the century.
"To be honest, the 15s team will never qualify for the World Cup – or at least not until it's widely played, and the sport goes professional," Inger Marie Godvin, the general secretary of the Danish Rugby Union (DRU), told CPH POST in an interview back in 2011.
"And that's not going to happen if it's not available through the schools and you don't see it on TV."
New strategies
Since then, sevens rugby has been introduced at the Olympics, so more people are aware of it, but it can be an uphill battle.
"We did a survey recently to find out if children knew what rugby was," Mikael Lai Rasmussen, the technical director of the DRU, told CPH POST in 2013. "And most of them said they did and then went on to describe American football!"
It is a problem that Rasmussen was confident the DRU could overcome, but he warned it would take time. "Our new strategic plan is trying to grow the game from the bottom of the pyramid," he said. "It takes ten years to develop a rugby player, which is why we're targeting 10 to 12-year-olds."
Danish rugby is also benefiting from increased participation at (mainly international) schools and universities, more exposure on television (as well as the Olympics, TV3 Sport 1 and 2 regularly show Six Nations coverage), a new Scandinavian project endorsed by the International Rugby Board (IRB) involving Sweden and Norway, and IRB funding thanks to the inclusion of sevens rugby at the Olympics.
However, the lack of participants ensures the sport doesn't get funding from the Danish Olympic Association, and the growth of rugby league has also hit playing numbers, with many now taking part in both codes.
A good fit for rugby
Genetically, the Danish people would appear to be a good fit for rugby. The men are mostly tall and lean (the average height of 180.5cm is one of the world's tallest) and with longer legs invariably comes pace – and when they're not, they tend to be robust and heavy. It isn't surprising to learn that the only world-class male athletes to have grown up in Denmark in recent years were both shot putters – in a parallel universe they might have made great prop forwards.
Unfortunately, the heavier types in Denmark tend to play handball, and to a lesser extent football (think Peter Schmeichel). Together the sports – which are easier to access (there are 30 times more handball clubs than rugby clubs, and being an indoor sport aids it tremendously) and more financially rewarding to excel at – account for the lion's share of participants in team sports.
Help from the expats
However, expats can make a difference, particularly as according to IRB rules, immigrants are allowed to play for their adopted country once they have been a resident for three years.
Speaking to CPH POST in 2011, Margaret Fulham, an Australian player with Lyngby-based expats club Exiles, said rugby in Denmark reminded her of football in Australia in the 1960s and 70s, which benefited from an influx of immigrants from experienced nations.
"These were people who had grown up living and breathing it, imparting their experience, knowledge and best practices. If you look around the various clubs, that's happening with rugby in Denmark. It's subtle and unassuming at times, but it is definitely there," she said.
So while Danish rugby is currently in the doldrums in 2017, there is still hope that the combination of expat experience and focus on youth could deliver the goods in the future.