Things to do
Performance review of 'Venus in Fur': Left in wonder by his Wanda lust
---
This article is more than 6 years old.
Don't miss Down the Rabbit Hole's production of David Ives's sadomasochistic tale at Huset-Kbh's new theatre space, HIT – House of International Theatre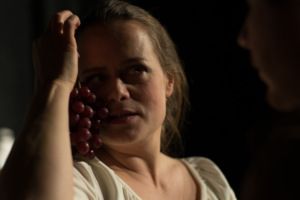 Everyone's got a front-row seat at David Ives's 'Venus in Fur', a play about a director auditioning an actress for the lead role in his new play about sadomasochism.
No stage left, right or back, we are the first and only wall, backs to it, keenly anticipating Down the Rabbit Hole's production at Huset-Kbh's new theatre space, HIT – House of International Theatre.
The final audition
Thomas (Jens Blegaa) is on the phone. A long day of frustrating auditions have drawn to an end, and now the director is vexing his frustrations to his fiancée. He's still no closer to finding a lead for his self-penned play 'Venus in Furs'.
The doorbell rings. Vanda (Vibeke Nielsen) is late – in fact she might not even be on the schedule – and first impressions do nothing to lift Thomas's spirits. He admonishes her amateurism and apparel, before reluctantly agreeing to read with her a little.
His dead-tired eyes echo Lou Reed's immortal lyrics: "I am tired, I am weary; I could sleep for a thousand years," but with her opening lines comes a seismic key change.
Inhabiting the role of Wanda von Dunajew, Vanda's radiance quickly transforms her appearance from uncouth to imperial.
In fact, she's everything Thomas and the audience presumed she wasn't, and as he takes on the role of Leopold von Sacher-Masoch – a 19th century Swiss author from whom the word masochism is derived – the boundaries between the audition and real-life start to blur.
He's found his 'Vanda', but in his Wanda lust, has he lost the upper hand?
The first pairing
Both performers on opening night kept a full house gripped to their seats for the entirety of the 90-minute single act.
The transformation of Nielsen from potty-mouthed philistine to erudite emancipator will leave you astounded – it stands to reason that when there's a play-within-a-play the performer will be equally good in both, but to go from repellent to resplendent just like that! Cue Lou Reed!
Blegaa, a Down the Rabbit Hole co-founder, is too talented to not to do this acting lark full-time. After decades of dabbling, he's finally giving it the dedication it deserves. He likewise metamorphosed at will, taking the audience on a journey to the far reaches of the Austro-Hungarian Empire, employing a raucous Transylvanian cartoon accent to camp up proceedings when required. He conveyed his eventual subjugation (similar themes here to the ones dealt with in Peter Strickland's 2014 film 'The Duke of Burgundy') with a reptilian resignation that sent shivers through the audience.
The Usain Bolt of directors
Peculiarly perhaps, the two-actor play has four cast members, which means Vanessa Poole and Alex Lehman are waiting in the wings to give the proceedings their own spin, and not just together, as will be the case on Friday. A day later, Blegaa will take on Poole, meaning that on any given night there are four possible line-ups.
This means that director Jeremy Thomas-Poulsen has been putting four groups of actors through their paces, not dissimilar to Usain Bolt running every leg of the relay, lending the play more legs and intrigue in the process.
This reviewer appreciates that it needs to be seen more than once, and preferably from a different vantage point next time to better appreciate the erotically-charged climactic scene. For just 50 kroner, the audience can return to see another version, providing they bring their original ticket with them.
As collaborative as the productions are – Thomas-Poulsen and Poole are also Down the Rabbit co-founders – the American director has again proved himself to be a masterful technician, providing us with a play in which the lighting, sound effects and setting were all superbly considered.
A special mention must also be made of the selection of Vanda's wardrobe, a third character in the play that steals the show at ease, along with some noticeable feelings in the audience's knees.
Whether it was the 'shiny, shiny, shiny boots of leather' or the final realisation of the play's title, which both came from a bag with more interior room than the Tardis, they were works of beauty that helped us believe we were indeed in the company of a goddess.