News
He's getting around: Brian Wilson coming to Denmark
---
This article is more than 6 years old.
Elsewhere, iconic film composer Hans Zimmer and UK singer-songwriter James Morrison are also coming over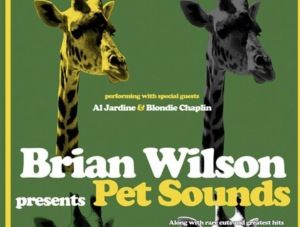 It'll be 'Fun, Fun, Fun' for Beach Boys fans this summer when the legendary Beach Boy and music icon Brian Wilson returns to Denmark to perform at the Odeon in Odense.
Wilson will perform one of the most celebrated albums in history, 'Pet Sounds', as well as a number of other classic Beach Boys favourites as part of his Pet Sounds Tour on Thursday June 29.
With classic tunes like 'God Only Knows', 'Sloop John B' and 'Wouldn't It Be Nice', 'Pet Sounds' is still considered one of the best albums of all time, some 41 years after it came out in 1966.
The album inspired the Beatles to make their own iconic record 'Sergeant Pepper's Lonely Heart's Club Band' in 1967.
Tickets go on sale on Friday at 10:00 at ticketmaster.dk for 450-850 kroner. Wilson performed the Pet Sounds gig in Randers last year and tickets sold out quickly.
READ MORE: Oh, the humanity! Ricky Gervais coming to Denmark
More Morrison
Elsewhere, the English singer-songwriter James Morrison is making Aalborg his only pit-stop in Scandinavia when he performs at the Aalborg Congress and Culture Centre on April 26.
Thanks to hits like 'You Give Me Something', 'Undiscovered', 'I Need You Tonight' and 'Wonderful World', Morrison has been one of the UK's top-selling musicians since emerging in 2006.
Tickets cost 300-455 kroner and will go on sale on Friday at 12:00 at akkc.dk or ticketmaster.dk.
Book a room with Zimmer
Last December, Ennio Morricone brought his legendary works to Copenhagen, and now Hans Zimmer, one of Hollywood's all-time top film composers is following suit with a performance at Forum on May 22.
Following successful tours in the US and Australia, Zimmer has hit Europe with his first ever tour, Hans Zimmer Revealed.
Zimmer has composed over 100 pieces of film music and will be accompanied by over 60 musicians in Copenhagen.
The first part of Zimmer's performance will include classic compositions from films like 'Gladiator', 'The Lion King' and 'Pirates of the Caribbean', while the second will contain pieces from 'The Dark Knight' trilogy and 'Inception' featuring guest appearances from several rock and pop artists.