General
Discount if you attend in your Viking costume!
---
This article is more than 6 years old.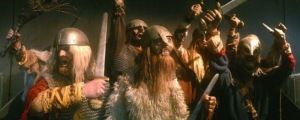 Midvinter Festival
Feb 17-19; Østerbrohuset, Århusgade 103, Cph Ø; 60kr, under-15s: 50kr, reductions if dressed in costume
Are you ready for the Vikings? Scandinavia's rich, somewhat rough and ready cultural history is coming to Copenhagen at the Midvinter Festival.
Østerbrohuset will be transformed into a colourful myriad of warriors, elves, orcs, Vikings, medieval folk and performers.
Put on your Viking costume (for a 20kr discount on entry) and find out how their ships were made and what crafts were most important at the time. And then take your expertise to find a bargain at the market.
No Viking event is complete without several fight re-enactments, and you can even try swinging a sword under the guidance of skilled instructors.