News
Danish app helping Cambodian activists to combat illegal deforestation
---
This article is more than 6 years old.
Project wins prestigious forestry award as successes mount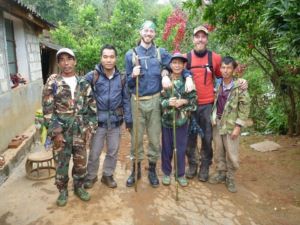 Cambodian activists fighting illegal deforestation have used a Danish-developed app to map and expose illegal logging and forest-burning activities in the Prey Lang forest in Cambodia.
The app, developed at the University of Copenhagen (KU) in co-operation with the Danish aid organisation Danmission and the Swiss IT firm Web Essentials, has helped the local Prey Lang Community Network (PLCN) activists get a grip on the destruction taking place in the Prey Land forest – about twice the size of Funen.
"The work the Cambodians are doing is fantastic – from a research and development perspective," said Søren Brofeldt, who is a PhD student at the Department of Food and Resource Economics at KU and involved in the project.
"The use of the app is an innovative solution to the complex task involved in monitoring a massive forest area with so much illegal logging like Prey Lang. The co-op with PLCN also demonstrates that local forest activists are able to fulfil this task effectively – even during a conflict-ridden and dangerous situation."
READ MORE: Danish-Cambodian forestry project wins prestigious UN prize at COP21
Dangerous work
The activists collect information by using their mobile phones to take photos of areas that have seen illegal deforestation. Using the app, the information is sent to an encrypted database, where they are collected and classified.
The activists also stop the illegal loggers and confiscate their tools, saws and other equipment used to cut down the forest. But it's dangerous work with 14 forest activists being murdered and many others being attacked in Cambodia since 2002.
The project has proven so successful that it won the International Society for Tropical Foresters (ISTF) Innovation Prize 2017, which is handed out by Yale University. And in 2015 it was awarded the prestigious 'UN Equator Prize' ahead of almost 1,500 other nominees from 126 nations.
It is estimated that illegal logging and the burning of tropical forests accounts for 20 percent of human-made CO2 emissions worldwide.
Learn more about the project in the video below.