News
End of an era: 'The Golden Four' dissolve following Olympic exodus
---
This article is more than 6 years old.
Motivation not there following World Rowing Federation decision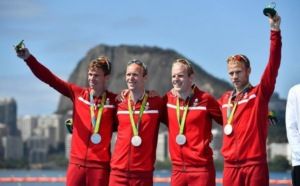 One of Denmark's most successful Olympic medal machines, the men's lightweight coxless fours, have called it a day after the event was scrapped by the World Rowing Federation (FISA) earlier this month.
The current foursome in the boat – Steffen Bonde Jensen, Peter Holmquist, Emil Hjorth Espensen and Jens Noll Nielsen – have decided to part ways due to a lack of Olympic participation on the horizon.
"We've said from the beginning that we wanted to keep the project going, whatever happened," said Lars Christensen, the sporting director of the Danish Rowing Association.
"But we also thought we owed the rowers to have a word with them to see how they felt about it. They were all very disappointed that the boat had been axed from the Olympic program and that's understandable. Their dreams had been to qualify for Tokyo 2020 in the boat, and that chance is almost non-existent today."
READ MORE: Denmark finally gets its second medal
Medal machine
Known in Denmark as 'Guldfiren' ('The Golden Four'), the boat is easily the most successful Danish rowing boat in history, winning three Olympic gold medals and a silver (in Rio last summer). Since the event's introduction in 1996, the boat has never failed to make the podium. It also won eight World Championship gold medals and three silvers.
FISA's decision to change boat classes ahead of the Olympics in Tokyo in 2020 still needs the approval of the International Olympic Committee, but that decision is expected to be all but a formality.
The four rowers instead hope to qualify to the Olympics in other boat classes.