News
Copenhagen eyeing wider bicycle paths
---
This article is more than 6 years old.
New billion-kroner plan aims to improve bicycle infrastructure in the capital looking ahead to 2025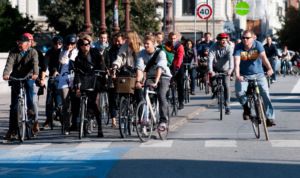 With infrastructure that includes about 350 km of curb-segregated bicycle paths, Copenhagen is often hailed as being the bicycle capital of the world.
But with cyclists outnumbering motorists for the first time since 1970 in the Danish capital, it is looking at ways to further improve its revered cycling infrastructure. One of those methods could be widening the existing paths.
"Over the last ten years, 46 km of bicycle paths have been laid, and during the same period the number of cycled kilometres has increased by 19 percent," Copenhagen Municipality wrote.
"But cyclists are already experiencing congestion on the city's most used cycle paths, and calculations show that the daily cycling traffic is expected to increase by 25 percent by 2025 – and by 36 percent during rush hour."
READ MORE: Nordic research shows significant health benefits of cycling regularly
Plans afoot
Next week, Copenhagen Municipality will unveil a new bicycle strategy, Cykelstiprioriteringsplanen 2017-2025 (Bicycle Path Prioritisation Plan 2017-2025), to improve how the cycling infrastructure.
The plan is based on expert evaluations and input from almost 10,000 Copenhageners who have pitched in with unique knowledge about the cycling conditions in their local areas.
A survey showed that while 87 percent of cyclists were satisfied with the number of paths last year, just 62 percent were satisfied with their width.
Dedicating more space to the cyclists seems reasonable given the current amount of space they take up. On average, the cycle paths take up just 7 percent of the road surface in Copenhagen – compared to pedestrian areas (26 percent), roadspace for cars (54 percent) and space for parking (12 percent).
The Bicycle Path Prioritisation Plan 2017-2025 is expected to cost 1.1-1-8 billion kroner and will include investment into cycle paths, green cycle routes and super bicycle paths, among other things.