News
Sports News in Brief: Denmark pulls out of Euro 2024/28 bids
---
This article is more than 6 years old.
Back-to-back finals for Woz, Wild Thing's coming and Højbjerg misses out on Wembley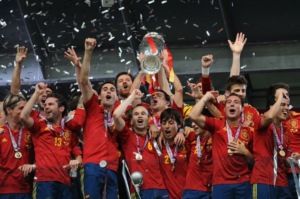 The Danish football association, the DBU, has confirmed it is no longer interested in co-hosting the European Championship in either 2024 or 2028 with Nordic neighbours Norway, Sweden and Finland. Denmark, which will host three games at Euro 2020, was not the first to pull out, however. Norway did so last week and Sweden then withdrew on Sunday. Initially the quartet had expressed an interest in March 2016. DBU head Jesper Møller clarified that while the federation would pursue plans to host European women's and youth tournaments, it was not ready to host a major men's tournament. However, that might change in the future, he added.
Wild Thing heading to Denmark
Big-hitting John Daly, the 1991 US PGA and 1995 British Open champion, will be among the competitors at Denmark's summer European Tour tournament in Himmerland, northeastern  Jutland. His participation underlines the growing allure of the Made in Denmark tournament (August 24-27), which is quickly gaining a reputation thanks to its cosy atmosphere and short 16th hole, 'Himmerland Hill', which resembles an amphitheatre (see video below). Daly told Golf magazine that he had seen the hole on television and liked what he saw: "The atmosphere [in Europe] is much cosier and more relaxed than in the US, and I've heard that the tournament in Denmark is very special in this regard." Made in Denmark adheres to a strict policy to not pay appearance fees to any of the participating golfers.
Unused sub misses out on defeat
Pierre-Emile Højbjerg was an unused substitute as his side Southampton lost 2-3 to Manchester United in the League Cup final on Sunday. Højbjerg would have felt slightly aggrieved having played in all five of the side's games on their way to Wembley. In addition, Højbjerg has made 17 times appearance in the English Premier League, along with six in Europe – a total of 28 this season. However, he has now been unused from the bench in three of Southampton's last four games.
Second successive final defeat for Woz
Caroline Wozniacki made it back-to-back WTA final losses over the weekend, as she went down in straight sets 4-6, 2-6 to Elina Svitolina in the Dubai Tennis Championships. It followed on the back of a 3-6, 4-6 defeat to Karolína Plíšková in the final of the Qatar Open on February 18. Ahead of the start of the US hardcourt season and her favoured Indian Wells Masters tournament, it has been an impressive fortnight for the Dane as she has won nine out of her eleven contests, winning every single one in straight sets, claiming the scalp of world number six Agnieszka Radwańska in the process. Dubai marked her first appearance in a WTA Premier Mandatory or Premier 5 final since 2013. Her world ranking has accordingly risen to number 14 this morning, now just 1,000 ranking points off the top eight.