News
Roskilde Festival going cashless
---
This article is more than 6 years old.
New card system aims to make it better for guests and vendors alike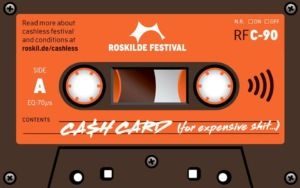 When tens of thousands of music fans descend upon Roskilde Festival this summer they can forget about cash. Neither Johnny Cash nor Eddie Money – no cash of any kind.
The festival organisers have announced that this year's edition will be cashless – booths and whatnot at the festival will no longer accept cash as a form of payment.
"Cash makes up a very small part of the turnover now, and it's quite a large and expensive system to handle for such a small reward," Lars Orlamundt, the head of sponsorships and partnerships at Roskilde Festival, told sn.dk.
"These are resources that we would prefer to spend on music or other facilities."
READ MORE: Roskilde Festival unveils one of its 2017 headliners
Cash card strategy
Guests will be able to continue to use their cash cards, and for those who don't have one the festival has come up with a solution that allows guests to put money on a festival payment card.
The card can be topped up at seven separate areas at the festival site, and money not spent during the festival will be reimbursed.
Roskilde Festival will kick off on June 24 and run until July 1.