General
Bowling over cyclists, the carefree and connoisseurs of grain
---
This article is more than 6 years old.
Introducing Bowl Market, a new pitstop for sustenance for budding Tour de France riders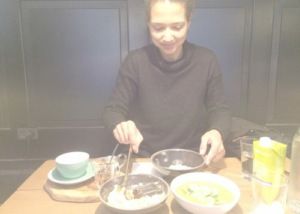 Bowl Market
Gasværksvej 3, Cph V; open Mon-Sun 07:30-18:00; sample prices: risotto: 80kr, porridge 75kr, tea 30kr, juice 28kr; 2482 6090
It is noon on the first Monday in February and a few carefree snowflakes dreamily float about before casually caressing my face and the pavement. Today a couple of bicycles are parked on the pavement on Gasværksvej in front of Bowl Market. One of them, a classic lady's ride, I recognise as my lunch date's.
In the goldfish bowl
Stepping into what was once a pizzeria, a certain clarity and calmness reigns in contrast to the street bustling with the activity of the shoemaker on the corner who's been there for donkey's years, shops selling bikes, tattoos and clothes, several hairdressers, a couple of restaurants, lots of apartments and relentless traffic.
Immediately I spot my friend at one of the few tables in the front room of Bowl Market. Actually, everything is easy to spot as soon as you enter, including all the food and drinks on the menu. As the owner Trey Greenwood explains, the kitchen is open view – so in the goldfish bowl, one could say – which allows the customers to follow the preparations of their coffee, tea, porridge or risotto, underlining the levels of cleanliness and care aspired to in every order.
For seclusion at a long table, go through to the wonderful room at the back. According to Greenwood, it's a popular meeting venue. Today two young ladies occupy the table, each with their own computer.
In the front room this quiet Monday, it's just us to begin with, although we are quickly joined by two more classy ladies. My friend and I already know what we want for lunch: the risotto with pickled mushrooms. But we compromise and order one risotto and one zucchini porridge – the other lunch bowl on the menu.
Bowled over by shrooms
Our whims are attended to by one of two smiling, polite waitresses and the owner himself. One of our whims is, inevitably, more salt, which is swiftly handed to us along with an explanation regarding how the mushrooms are pickled. Their effect on the risotto leaves my mouth watering for more.
"I need more substance," my friend observes about the zucchini in the porridge. She has a point. It could serve well as a side-dish to a more solid bowl of … wait, this is a vegetarian, gluten-free porridge and risotto dining place. And a very fine one at that. We both marvel at the interior. It is clear, from the lamps over our heads to the soap and hand towels in the restroom that nothing is haphazardly thrown in for good measure.
It took Greenwood 14 visits to coffee roasters and 24 places serving porridge in Copenhagen before he settled on how to serve his. Inspired by how to put together a nutritious diet for professional cyclists – a field he previously had a career in – his aim is to serve a bowl of breakfast porridge that provides the 'slow burn' a cyclist (or you and me) needs for lasting energy. Cook each bowl from the beginning for al dente consistency, instead of a huge bowl of gooey paste for all, he stresses.
To drink, there is fresh water in bottles on trays laden with glasses on the tables. My friend enjoyed a cup of Earl Grey tea while I opted for the elderflower juice.