News
News in Digest: Sharing this journey called life
---
This article is more than 6 years old.
We know a lot about the Danes thanks to their propensity to appear in TV ads, gas on the phones and not turn down a free meal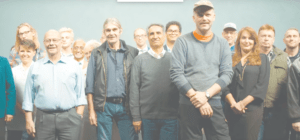 An advertisement made by the commercial channel TV2 has gone viral since being translated into English on January 27 – the same day that Donald Trump released his executive order blocking many Muslims from travelling to the US.
'All That We Share' introduces us to a crowd of Danes segregated by economic and ethnic demographics. We've got rich people, poor people, lifelong Danes, new Danes and more – groups we might be inclined to generalise about.
But then a number of new categories are introduced: ones that address our life's journey as opposed to where we came from. And as the people respond, it reminds us that despite our different backgrounds, we share so much more in common.
Tucking in together
And now that includes shared meals thanks to a new initiative launched by Coop and its chain of local supermarkets, Dagli'Brugsen, which brings together people living in small towns and villages.
'Vores Madfællesskab' (our food community) aims to foster a strong local community, and it has been commended for helping the estimated 200,000 Danes who suffer from loneliness.
Fewer suicides
In light of this, and the rising number of reported rapes (up from 339 in 2013 to 744 last year) and incident involving cyberbullying (a serious problem at 20 percent of the nation's schools), you would be forgiven for guessing the suicide rate has risen, but the reverse is true.
Numbers fell from 924 in 1995 to 584 in 2015 (404 men, 180 women), according to the national death register, Dødsårsagsregisteret.
This might go some way towards explaining how a record 1,143 Danes celebrated their 100th birthday last year, of which 976 were women. Experts cited better childhoods and healthcare.
Countering the figures, to an extent, has been a rise in the number of motorcyclist fatalities – up 37 percent last year to 26. While seven cyclists were killed in a right-turn accident, compared to only one in both 2014 and 2015.
Horny as hell
A healthy sex life doesn't hurt, or at least that's the myth predatory male journalists like to perpetuate. Since the release of the erotic drama 'Fifty Shades Darker' on February 9, sex toy sales have soared by nearly 50 percent
According to Sinful.dk, the demand for BDSM sex toys – such as whips, handcuffs and bondage ropes – has more than doubled.
According to a Vouchercloud survey, Danes purchase more sex toys than any other nation in Europe. They average more than one search for every ten residents in the country. Sweden, the UK, the Netherlands and Russia completed the European top five.
And where would we be without a Victoria Milan study, which this time has suggested Danish women would on average need 1.58 dates before they have sex – the quickest of ten European countries surveyed – but then again, we are talking about visitors to an adultery website.
She can stay
Finally, where would be without the quirky findings that warm the cockles of our hearts during the long Scandinavian winter – which on this occasion came from the same survey by YouGov carried out for BTMX.
It found out that 36 percent of Danes are annoyed when a clerk poses the question "Can I help you?"
And if they were given a choice, 64 percent of Danes would keep their current mothers-in-law rather than getting a replacement, with only 19 percent keen on getting rid.