News
DTU commended by NASA for Jupiter exploration
---
This article is more than 6 years old.
DTU awarded the 'Group Achievement Award' for Juno Mission efforts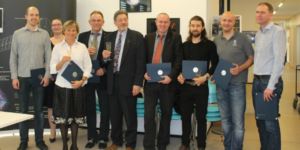 Researchers and experts at Denmark's national space department, DTU Space, have garnered some rather celestial recognition for their exploration of the planet Jupiter.
A total of eight researchers and scientists at DTU Space were awarded the 'Group Achievement Award' by the US space agency NASA for their work on the ongoing Juno Mission exploration project.
"These prizes are a recognition of the great effort the team from DTU have exerted for the Juno Mission," Jack Connerney, NASA's deputy head of the Juno Mission, said during the award ceremony.
"It's a privilege to work with you at DTU. You get things done."
READ MORE: Hurricanes, flooding and … space weather? Here are the top threats to Denmark
Abundance of data
Following a five-year, 720 million km journey into the dark expanses of space, the unmanned Juno spacecraft entered Jupiter's orbit last year in what was one of the most critical phases of the project. It was here that DTU Space played its pivotal role.
DTU Space provided the four state-of-the-art cameras for the vessel, which are used to not only navigate precisely, but also to take photos of Jupiter and the areas of space it passed through during its long journey. DTU Space also played an important role in the validation and calibration of the vessel's magnetometer, which measures the magnetic field of the planet.
Currently, Juno is orbiting around Jupiter while collecting scientific data that is expected to reveal new information about the planet, which is about 300 times the size of Earth.
The vessel will also map the magnetic field around the planet, search for water in its atmosphere and look for unusual matter, such as metallic hydrogen. The largest planet in the solar system, Jupiter has 63 known moons in orbit around it and possesses a magnetic field that is 18,000 times more powerful than Earth's.
READ MORE: Denmark to invest millions into space activities
Going to extremes
Furthermore, Juno Mission hopes to shed light on a storm roughly three times the size of Earth that has raged on the planet for at least 350 years.
"This is the most extreme NASA mission we have participated in so far," said Professor John Leif Jørgensen, the head of the Department of Measurement and Instrumentation at DTU Space.
"The conditions are extreme by Jupiter, which is so far away, and we are looking for answers to some of the biggest questions of the universe. So we are really pleased that there is data coming back to us and we look forward to publishing the first results from the mission along with our colleagues at NASA."