General
Mid-March Art: Reformation remembered and reimagined
---
This article is more than 6 years old.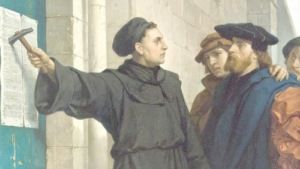 THESES
March 11-May 14, Mon-Sun 10:00-18:00, Tue & Wed until 21:00; Rundetaarn, Købmagergade 52A, Cph K; 25kr; rundetaarn.dk
The 500th anniversary of the Reformation is just around the corner and with it a year of festivities are being planned.
One of these is the THESES exhibition, which is visiting the famous Round Tower of Copenhagen before continuing onto Ribe, Toreby, Lemvig and finally Wittenberg in Germany, where Martin Luther posted his famous theses in 1517, thus starting the Reformation.
The Round Tower invites you to the exhibition of 25 prominent Danish artists who have developed different artwork – including paintings, sculptures, installations, photographs and graphic design – in relation to the Protestant anniversary.
Group Show
March 3-April 7

, Tue-Fri

12:00-16:00

, Sat

12:00-16:00

; Prince Gallery, Hauser Plads 16 A , Cph K; princegallerycph.com
This month's exhibition presents four young Danish artists.
Niklas Bruhn graduated from the Funen Art Academy in 2014 and is exhibiting paintings that refer to mythologies, religious narratives and animated films.
Matilde Duus graduated from the Royal Danish Academy of Fine Arts in 2014. The topics of fragility, time and light are covered in her artworks for which she uses different materials.
Anna Kristine Hvid Petersen studies at the Royal Danish Academy of Fine Arts – unnaturally spaces develop in her paintings that can be discovered by the viewer.
Helene Vestergaard studies at the Funen Art Academy and is creating paintings and collages in which she places collected pictures.
Don't miss the young talents!
A meeting on St Thomas
March 10-July 2; open 13:00-17:00, from 11:00 on Sat-Sun, until 21:00 on Wed; Ordrupgaard Museum, Vilvordevej 110, Charlottenlund; 110kr; ordrupgaard.dk
Immerse yourself in the history of impressionism via oil sketches, watercolours and drawings by French artist Camille Pisarro and Denmark's Fritz Melbye.
Tangerine Society
Feb 25-March 25

, Wed-Fri

12:00-18:00

, Sat

12:00-16:00

; V1 Gallery, Flæsketorvet 69, Cph V; v1gallery.com
The paintings of this exhibition by B Thom Stevenson are dilemma and protest paintings, as most of his work is somehow connected to conflict. He uses language and pictures to create imagery and communication tools – there is a lot to discover for the viewer, so stop by and observe!