General
Everyone's welcome at the St Patrick's Day Parade!
---
This article is more than 6 years old.
CPH POST caught up with Marianne Green, the organiser of the event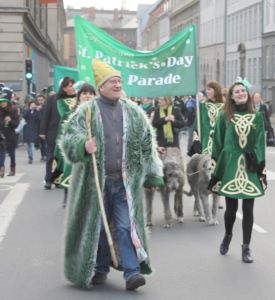 Everyone is Irish on St Patrick's Day" is well on its way to becoming as immortal a tagline as 'Wonderful Copenhagen'.
And once again, for the 13th time, the annual St Patrick's Day Parade will start at Rådhuspladsen, the city hall square, and take a route through Copenhagen's city centre, inviting all Danes, Irish folk and foreigners alike to participate in its green pride festivities.
This year's merriment will take place on (hopefully) a sunny Friday afternoon, but the lively shamrocked cheer will continue, rain or shine!
Stock up on the day
Everyone is welcome to participate in the parade's march through Copenhagen's streets – providing they leave behind their Danish black attire and swap it for their brightest Irish garb.
No costumes? No problem – from 14:00 onwards, Rådhuspladsen will offer free face painting for children, green accessories for sale, and a place to warm up with an Irish coffee or indulge in a pint of Guinness (maybe the first of the day, but definitely not the last).
No shortage of fun
This year welcomes back a taste of cultural performances (from 15:30 onstage at Rådhuspladsen), including the Dark Green School of Irish Dancing, the Green Steps performers showing off their best Riverdance moves, and spirited Irish folk tunes to set the mood.
Departing Rådhuspladsen at 17:00 – it's best to get there at least 30 minutes early if you want to participate – the Green Parade will be led by none other than St Patrick himself, this year the actor Ian Burns is playing the role.
The parade arrives back at Rådhuspladsen at approximately 17:45 – still nice and early to take a rest before embarking upon the further partying the night has in store. So go on, join the craic!
The pivotal role
Ahead of the big day, CPH POST caught up with parade co-organiser Marianne Green to find out more.
Can you explain a bit about your tagline 'Everyone is Irish on St Patrick's Day'? What is your goal there? Have you seen a lot of cultural diversity in the crowds?
The Copenhagen St Patrick's Day Parade is a celebration of Ireland's national day abroad, and the initiative has been taken by the non-Irish who are engaged with Irish music and culture and have had many great experiences travelling in Ireland and meeting Irish people.
The motivation for organising a big event like a parade in Copenhagen was to give the Irish expats living here, along with people from all nationalities who are fascinated by or feel a connection to Ireland, a platform where they can celebrate Ireland's national day with the whole family at a family-friendly event.
The slogan we chose felt right because it is so important for us to invite and engage people who are not familiar with Irish culture or are not Irish and send a message that we can all share and take part in each other's cultural celebrations across nationalities and culture.
What is it, do you think, that makes the Irish spirit so infectious? What do the Copenhageners have to gain from this fun celebration?
There is a very unique spirit of positivity and care-freeness in both Irish music and dance that is very satisfying for our souls and perfect for a fun social gathering. Especially because it is also balanced by a melancholic and nostalgic side, so you have both extremes of expressing emotion. The social spirit of the Irish always feels very welcoming and inclusive to strangers who instantly feel the atmosphere of the Irish 'craic'.
At the Copenhagen St Patrick's Day Parade we strive to fulfill both criteria. We prioritise live music and Irish dancing very highly so people in Copenhagen can share in this experience. We also have a tent where you can enjoy an Irish coffee or an Irish beer, though with respect for this being a family event. For the children there is free St Patrick's Day face painting and everyone can go to the little green shop and get kitted out to join the parade.
We wish to engage all generations at this festive social gathering and hope that people in Copenhagen will enjoy experiencing Irish culture and taking part at being 'Irish' for a day.
Since the parade's inception in 2005, how have you seen it change?
When it first started it was mostly people we knew through Irish cultural activities and friends and families of those that got involved. However, we launched it as an international event from the beginning and had ambitions for it to develop as such and become a tradition like other new introductions to Denmark – For example, Halloween and Valentine's Day – have become. This was very well received by the Danish press and it quickly grew and became a popular event. People travel from abroad to take part with Irish expats and local Copenhageners alike. It has indeed become a Copenhagen event that people look forward to and make their own.