News
Guides needed to manage Bispebjerg Cemetery's flower-power fest
---
This article is more than 6 years old.
When the trees blossom, the tourists come out in force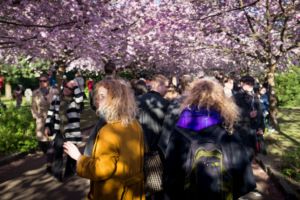 In recent years, Bispebjerg Cemetery in northwest Copenhagen has become something of a place of pilgrimage – especially during a few special weeks in spring.
READ MORE: Saluting spring as Sakura under the cherry blossoms
It is at this time that its avenue of Japanese flowering cherry trees is at its absolute finest. Perhaps partly due to pictures posted on social media, the cemetery has now become a major tourist magnet, attracting people from all over the world. This year, more than 100,000 people are expected to come and view the phenomenon.
Lending a friendly hand
Because of the large number of visitors, for the first time Copenhagen Municipality has decided to employ guides to help manage the flow. However, these guides should not be considered guards, but are there to help people in a friendly manner so that they don't tread all over the graves and disturb funerals that might be taking place.
"We would like to believe that people don't act thoughtlessly on purpose, but there will always be a bit of a challenge when so many people are concentrated in such a small area," Anders Melamies from Copenhagen Municipality told TV2 Lorry.
"The cherry trees are in blossom both day and night, but we will only be there during normal working hours. We hope we will be able to draw on volunteers to ensure that there will always be someone around to assist."
During the period from April to September, the cemetery is open daily from 07:00-22:00.