News
News fit for Paddy's Day: Riverdance are coming to Copenhagen!
---
This article is more than 6 years old.
J Cole, Diana Krall and Jim Norton are also performing in Denmark this year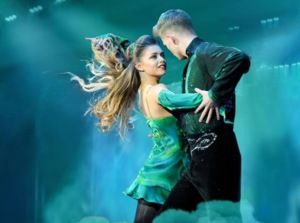 Nobody knows why the international Irish dance phenomenon, which first came to the attention of the world during the interval of the 1994 Eurovision Song Contest, has an anniversary show called 'Riverdance21', but coming to Copenhagen this autumn they are. The performance will include a number of new additions to the original show, such as new lighting design, new costumes and a new cappella dance number, 'Anna Livia'. The Riverdance anniversary show was composed by Bill Whelan, produced by Moya Doherty and directed by John McColgan. A new generation of dancers will perform the very popular show at Royal Arena on September 15 and 16. Tickets cost 400-500 kroner and can be purchased via livenation.dk and ticketmaster.dk on March 21 at 10:00.
Metallica is 'Hardwired…To Self-Destruct'
The US heavy metal band Metallica has confirmed that the European leg of its 'Worldwired' world tour contains a concert at Jyske Bank Boxen in Herning on 27 March 2018. Tickets go on sale on Friday March 24. Every ticket includes either a standard physical or digital copy of their latest album, 'Hardwired … To Self-Destruct'. The album debuted at number one worldwide and sold more than 800,000 copies in its first week alone. Tickets for the concert are available to purchase via  livenation.dk and ticketmaster.dk.
Brutally honest comedian to stand-up in CPH
Stand-up comedian Jim Norton will perform in Denmark for the first time at Bremen Theater on May 29. The US actor and radio personality made his debut in 1990 and since then has appeared in numerous television shows and movies. Norton has released four comedy albums, including 'Despicable' and 'No baby for you!'. His humour has been described as sex-charged, cringe-worthy but always brutally honest and unapologetic. Tickets for his show in Copenhagen cost 295 kroner and are available for purchase via ticketmaster.dk on March 17 from 10:00.
US rapper will perform '4 Your Eyez Only' hits in Amager
Grammy-nominated rapper and producer J Cole returns to Denmark to present his new album '4 Your Eyez Only', which became an instant hit after its release in December. The 32-year-old musician started his career in 2007 and since then has entrenched his name on the international hip-hop scene with hits like 'Work Out', 'Power Trip', 'Crooked Smile' and 'No Role Modelz'. Cole first visited Denmark in 2015 when he performed at a sold-out Store Vega. This year, he will give a concert at the new TAP1 on Amager on September 29. Tickets went on sale on February 24 via ticketmaster.dk and cost 395 kroner.
Jazz singer will turn up the quiet at CPH Opera House
Highly-acclaimed Canadian jazz pianist and singer Diana Krall is coming to Denmark this autumn to present her new album 'Turn up the quiet', which is due to be released on May 5. The Grammy winner will first give a concert in Jutland at Vejle Musikteater on September 10 and then 20 days later at the Opera House in Copenhagen. It will be the first time in five years that Krall has performed in Denmark. She has sold more than 15 million records worldwide, and her fusion of traditional pop and jazz transcends both genres. Ticket sales for her concerts in Denmark started on February 10. They are available for purchase via ticketmaster.dk.