News
FC Copenhagen brings home the bacon for PS&E
---
This article is more than 6 years old.
Parken Sport & Entertainment turns around finances despite fitness woes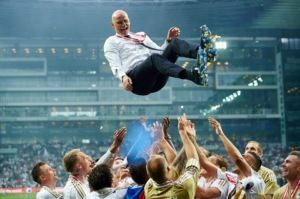 FC Copenhagen's excellent run in European football has paid off handsomely for owners Parken Sport & Entertainment (PS&E), which has turned a loss in 2015 into a strong profit in 2016.
It was primarily FCK's Champions League adventure – followed by a jaunt to the Europa League last 16 – which weighed in heavily, turning PS&E's finances into a profit of almost 200 million kroner before tax.
"We are proud of the result, which shows that the decision made in regards to investing in FC Copenhagen has paid off," said Bo Rygaard, the chairman of the board for PS&E.
READ MORE: Sports News in Brief: FC Copenhagen and Wozniacki crash out
Fitness failings
The company expects FCK to produce a further profit this year, and it has tied its financial expectations to the club reaching the Europa League next season.
Another areas that has proven successful for PS&E is its Lalandia holiday centres in Rødby and Billund, which yielded a profit totalling 83 million kroner.
However, the company continues to endure considerable losses via its fitness chain Fitness.dk. A 120 million kroner goodwill impairment led to a loss of almost 140 million kroner. But despite that, Rygaard still has faith in the struggling fitness chain.
"Despite the goodwill impairment, we still see the potential in Fitness.dk," he said.
"We have a strategy in place regarding the establishment of a number of new centres, the development of existing centres, and some new concepts. This gives us a strong belief in the future of Fitness.dk."