News
Danish camp guard avoids war crime charges
---
This article is more than 6 years old.
The past can still come back to haunt us, as two Danish men who narrowly escaped prosecution for war crimes found out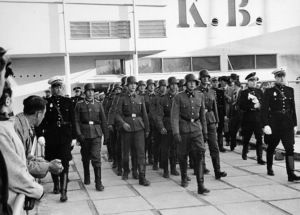 Nazi hunters from the Simon Wiesenthal Centre recently reported a 91-year-old former member of Frikorps Denmark and another Danish man to the authorities as possible war criminals, reports TV2 News.
The 91-year-old, who is now a Swedish citizen, was a guard at the Waldlager Camp in Belarus.
Off the hook
Yesterday, the Danish prosecutor decided not to press charges against the two men. Even though just after the war the 91-year-old man said that he had seen a number of Jews being executed, the public prosecutor ruled there was not enough evidence to make a case – related to either his active or passive involvement in the killings.
READ MORE: Nazi hunters zeroing in on more suspects in Denmark
The decision has prompted Peter Skaarup, the group chair of Dansk Folkeparti, to question the minister of justice about the case.
"We would like to know what lies behind the prosecutor's decision not to bring charges. We'd also like to know why Denmark doesn't change tack in such cases, as Germany has done. In Germany, confronting this period has been very painful, and there are good reasons why here in Denmark we should review the way we handle this kind of case," said Skaarup.
He emphasised that he was not out for revenge or a long prison sentence for the 91-year-old Dane. However, "these cases are important for the generation that is rapidly dying off. And they are also important for our knowledge about this period."
It is never too late
Therkel Stræde, a lecturer in contemporary history at SDU and author of the book 'A school of violence' – which deals with (among other things) Frikorps Denmark personnel's activities as guards in the Waldlager camp – has questioned the public prosecutor's decision.
"In Germany, where they have only very recently changed tack, they now bring charges against people who have been a part of the extermination machine," he told TV2.
"Better late than never – and it is certainly not too late for Denmark to change tack on this as well."
Stræde had previously indicated to Information that the two Danes would probably have been sentenced for complicity to murder if the case had been brought in Germany.