News
Denmark gave far less development aid than promised
---
This article is more than 6 years old.
Government sets aside 800 million kroner less than pledged in its 2016 financial budget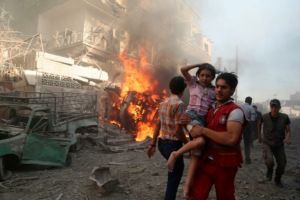 Despite agreeing to set aside 0.71 percent of Denmark's gross national income (GNI) for development aid during its 2016 budget agreement, the government only allocated 0.67 percent – about 800 million kroner less than pledged, according to the Altinget online newspaper.
Aid organisations, including the Red Cross, lament the lower aid figure and contend that the missing funds would have made a considerable impact.
"800 million kroner would have made a huge difference," Anders Ladekarl, the secretary general for Red Cross, told Altinget.
"The world has never faced larger humanitarian catastrophes than it is currently facing, and every extra krone could have saved lives. There is no doubt about it."
READ MORE: Danish government agrees on new aid policy
Asylum seekers AWOL
Part of the issue concerns 400 million kroner of aid that was originally set aside for asylum costs in Denmark for 2016, but which was never used because the flow of refugees to Denmark tailed off significantly last year compared to 2015.
The funds instead ended up in the Finance Ministry, according to Altinget's numbers based on the latest GNI figures from the national statistics keeper Danmarks Statistik.
In January, Denmark inked a new aid agreement that maintains the nation's position as one of the few nations to dedicate at least 0.7 percent of the nation's GNI.