News
Keep your hat on – 72 percent think cycle helmets should be compulsory in Denmark
---
This article is more than 6 years old.
The campaigns teaching people about the benefits of using cycle helmets seem to have worked, a recent poll shows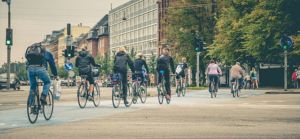 A survey conducted by Analyse Danmark for Avisen.dk has shown that 72 percent of Danes think the use of cycle helmets ought to be compulsory, Metroxpress reports.
Those surveyed went as far as saying that helmets should not only be compulsory, but also a legal requirement when cycling in traffic.
Make it natural
Neither the cyclists' association, the traffic safety committee nor the government support a legislative approach, but a traffic researcher at Aalborg University, Harry Lahrmann, does.
"For a long time now we've been used to fastening our seatbelts when we get into a car, and with a little adjusting to the idea, the use of helmets could also become a natural part of a cyclist's routine," he told Avisen.dk.
The cyclists' association, however, are sceptical.
"We definitely recommend the use of helmets, but we don't think it is the right approach to make it a legal requirement to wear one," said association head Klaus Bondam.
Bondam also feels it would be a waste of police resources if they had to stop cyclists riding without helmets.
READ MORE: Copenhagen eyeing wider bicycle paths
Infringing citizen's rights
Even the traffic safety committee, which works to make traffic conditions safer for cyclists, doesn't think that helmets should be compulsory. It would be an infringement of citizen's rights, the committee feels.
The government has no plans to do so either.
"Citizens ought to be able to choose whether to wear a cycle helmet or not," Liberal Alliance's traffic spokesperson, Villum Christensen, told Avisen.dk.
"We don't think we should legislate every time there is a problem."
However, the results of this survey chime with previous ones. In December, a YouGov poll revealed that 56 percent of Danes wanted to criminalise the non-use of cycle helmets.