General
CPH:DOX review: 'Beuys'
---
This article is more than 6 years old.
Enter the thoughts and life of the famous German artist Joseph Beuys in this documentary.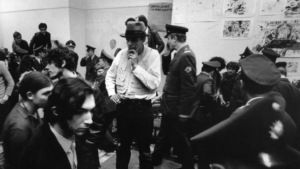 This documentary is an entertaining portrait of the renowned German artist, Joseph Beuys. He is famous for his memorable face (buckled nose and dominant cheekbones) the hat he always wore, but especially for his outstanding, provocative art.
The political Beuys
The documentary reveals the political Beuys, who was engaged in the foundation of the Green Party. Director Andres Veiel wanted to show that Beuys was ahead of his time, for example with his thoughts about capitalism. Beuys' provocative appearances portray his humour on the one side, and his severity on the other.
The endless concept of art
The documentary invites us to follow Beuys' trains of thoughts about social art, democratisation and new ideas. He believed in humankind, and was convinced that everyone could be an artist, as everything can be art – in his works, Beuys aimed to expand the concept of art and therefore often used rather unusual materials, such as fat or felt.
The combination of interviews with contemporary eyewitnesses and archival film excerpts creates a mosaic on Beuys. The film provides significant insights into his ups and downs – from his childhood until his final years.
Beuys' family life
During those years, the family behind Beuys lived in the shadows … and this might be the reason they didn't want to take an active part in the documentary. Still, the film includes some scenes showing Beuys as a father and husband, whereas his relation to his parents is just touched on in an interview with an eyewitness.
So if you are interested in the artist's thoughts and life, then don't miss this compelling portrait!