News
Roskilde Festival building school for creative youth
---
This article is more than 6 years old.
It is due to open in January 2019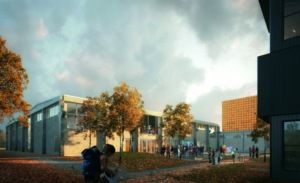 After 12 years of planning, Roskilde Festival has finally kick-started the construction of a brand new folk high school that aims to attract young people interested in music, art, design and activism.
The school will be located in the former industrial area, Musicon, in Roskilde and is due to open in January 2019.
It will be the first folk high school built from scratch in Denmark in 48 years.
Some 300 guests including culture minister, Mette Bock, and Roskilde's mayor, Joy Mogensen, attended the ground-breaking ceremony on Monday.
Although, in this case, a hammer and a chisel were used instead of the usual spade.
READ MORE: Roskilde to rock all year round
Dynamic urban site
Designs for the new school have been created by the Danish architectural firm COBE and Dutch architectural firm MVRDV. They have decided to renovate a former concrete production factory in the Musicon area.
This dynamic urban site already serves as a working space for creatives and includes a skate-park, dance theatre, and the museum for pop, rock and youth culture – Ragnarock – which has also been designed by COBE and MVRDV.
The school will be located about 2 km from the historical centre of Roskilde and about 1 km from the Roskilde Festival site.
It will have space for 120 students aged 18-25 and offer courses 4-10 months in duration.
The school has been budgeted to cost about 160 million kroner.
Roskilde Festival will contribute with 34.5 million kroner, the municipality will invest 53.5 million kroner, and the rest will be paid by various foundations.