News
Danish aid workers caught out on camera encouraging 'black work'
---
This article is more than 6 years old.
Homeless migrants have, in some cases, been steered towards seeking illegal employment as a last resort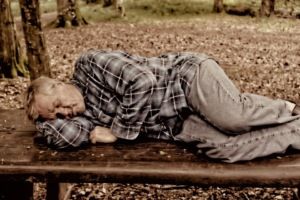 In connection with the making of a TV2 documentary entitled 'Illegal in Denmark', three counsellors at DanChurchSocial (Kirkens Korshær) have been filmed suggesting that an undercover reporter look for 'black work' (working under the table).
In one case, an employee of the aid organisation's Kompasset information centre went as far as helping TV2's Nigerian reporter to search for 'black work' on the internet.
"I don't know whether you know any Nigerians in Denmark, because otherwise it will be hard to find black work, but if you can …," said the counsellor before shrugging his shoulders. "You can't get legal work."
READ ALSO: Vast majority of homeless sleeping on Copenhagen's streets are foreign
Prior to that exchange, the reporter had told the counsellor he had neither a passport nor papers, but that did not deter the counsellor from recommending that he sought illegal employment.
Going further than the law permits
Since January 2013, the aid organisation has been running Kompasset, which is targeted towards helping homeless migrants who are not registered in Denmark and have difficulty navigating the Danish system.
However, some of the employees are taking this a lot further, the documentary reveals.
TV2's undercover Pakistani reporter was told: "It's obviously risky working black. If, for example, they don't pay you, you can't do anything about it. We can't recommend 'black work'. But if it is in order to survive, then you have to do what's necessary."
Certainly not company policy
Kjeld Farcinsen, a police commissioner working in the area of immigration in Copenhagen, said that he'd never heard anything like it.
"It's thought-provoking that the employees of an organisation advise illegals to break the law instead of advising them how to abide by it," he told TV2.
On seeing the footage, Helle Christiansen, the head of DanChurchSocial, was "surprised and disappointed", emphasising most strongly that the organisation in no way approves of 'black work'.
"We've obviously not done our work properly because we've not clearly emphasised that black work is something that you should under no circumstances get involved with – it's both dangerous for you and it undermines society," she told TV2.
The employees in question have been disciplined.
The first part of the documentary airs on TV2 on Thursday March 30 at 20:00 and will then be available on TV2 Play.