News
Her Miami majesty: Woz on course for biggest ever win
---
This article is more than 6 years old.
Will it be third time lucky for Caroline Wozniacki in her third final of the year?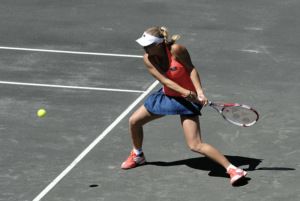 Caroline Wozniacki yesterday avenged her defeat to Karolina Pliskova in the final of the Qatar Open in February, coming back from a set down to see off the Czech player 5-7, 6-1, 6-1 in the semi-finals of the Miami Open.
Once again, her victory was grounded in a low unforced error count as she totalled only nine over the last two sets.
She hit a mediocre 26 winners, but more impressive were her net figures, converting 13 out of her 19 volleys – an indicator that the 26-year-old Dane is more attack-minded than in the past.
Winning and grinding
Tennis Magazine was impressed by Wozniacki's performance, listing some of her best shots and asking its readers to guess who it was talking about – although the picture of the smiling blonde in red was a bit of a giveaway.
"A sneak-attack trip to the net that ended with a backhand volley touching perfectly in the corner. A full-cut swing volley winner. A sliding, slicing ace down the T to close out a set," it posited.
And Wozniacki, it is fair to say, was surprised. "Yeah, I'm not sure how I managed to do that," she said.
"It's tough when you lose that first set after having set points, it definitely hurts you a little bit, but I had a good start to that second set and that got me going, got me grinding."
Prestigious tournament
The victory eases Woz through to her third final of the year, but this is not just any tournament.
As a prestigious Premier Mandatory, it carries more ranking points (1,000 for the winner, 650 for the runner-up) than regular WTA events, and its audience attendance is nearly on a par with the US Open, as is its number of entries (96 vs 128)
Given its reputation for having the slowest hardcourts on the tour, it's surprising this is Wozniacki's first final in 11 attempts.
No April Fool's
On Saturday April 1 she will be seeking to win her biggest ever tournament – until this point, that honour falls to her triumph at the 2011 Indian Wells – and it is testament to how far she has come in the last six months that many might news of a victory is an April Fool's joke.
Tennis Magazine clearly thinks she has a chance given her current form. She will face Britain's Joanna Konta who beat Venus Williams 6-4 7-5 in the late Thursday game. Bookmakers make Konta a marginal favourite.
"Now, I'm not saying Wozniacki has turned herself into a cross between John McEnroe and Agnieszka Radwanska overnight," its writer said. "Call this Caro 3.0."