News
Speeding more prevalent in rural areas
---
This article is more than 6 years old.
Long distances and spacious roads have drivers pushing the pedal to the metal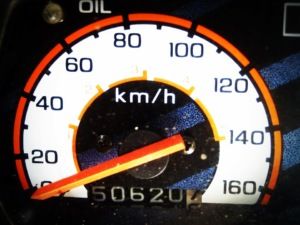 The Danish word for speed ('fart') is probably one of the more amusing words to English-speakers in Denmark. But speeding in no laughing matter on Denmark's roads, and probably least of all in the little town of Sandved.
Located near Næstved in south Zealand, Sandved handed out 173 speeding tickets for every 1,000 cars monitored by police scanners in the town – a Danish record for last year, according to figures from the state police Rigspolitiet.
The highest proportion of speed sinners per capita can be found in rural areas in south Zealand, Lolland-Falster and mid Jutland. In comparison, drivers in Copenhagen were far more wary of speeding, with just one out of every 1,000 drivers getting tickets.
"When there's lots of space on the roads, people don't seem to think there is any danger and hit the throttle more than they should," Erik Mather, the head of local traffic police in South Zealand and Lolland-Falster, told DR Nyheder.
"I can only shake my head every time I see speeds of over 200 km/hour. Then there's something people haven't understood. We don't have free speeding limits in Denmark."
READ MORE: Un-easy riders – biking has become an increasingly hazardous way to travel
Rural and brutal
Experts contend it's quite common for drivers in rural areas to breach speed limits more often, as congestion often tends to put a damper on speed in urban areas.
Car accidents also tend to be more serious in rural areas than in the cities for that very same reason, according to Niels Agerholm, an associate professor at Aalborg University.
"The longer distances people drive, the more likely they are to speed. People who drive far are under the impression they are making up time," Agerholm told DR Nyheder.