Things to do
Early-April Kids: Tivoli's open again and we're flying high!
---
This article is more than 6 years old.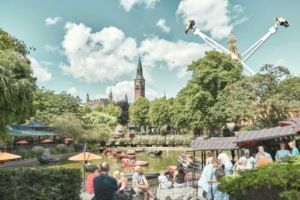 April 6-Sep 24, open Mon-Sun; Tivoli, Vesterbrogade 3, Cph V; 120kr, under-8s free adm; tivoli.dk
Our favourite amusement park is opening for the summer season.
Since opening its doors in 1843, Tivoli has been providing fun days for everyone.
Its mixture of entertainment venues, rollercoasters, restaurants and gardens makes it one of the most popular spots in Copenhagen for families!
And if you want to combine your first visit of the year with something special over Easter, then don't miss the Pippi Longstocking musical (April 13-17, 12:00 & 16:00; 165-295kr) at the glass hall theatre, Glassalen.
Amuse yourself when the Astrid Lindgren heroine takes you on an adventure to the circus and a tea party!
Circus Arena
ongoing, ends April 9; Sat-Sun 12:00 & 15:30, Wed-Fri 17:00; Hulgårdsvej 122, Cph NV; 170-360kr; arena.dk
The biggest Nordic circus is back in Copenhagen and they have a surprise: Ramasjang star Motor Mille is accompanying all shows and will present the performances – don't miss it!
Sunday for kids
April 2, 11:30-16:30; SMK, Sølvgade 48-50, Cph K; adults: 110kr, under-30s: 85kr, under-18s: free adm; smk.dk
This one is for creative families! SMK is inviting the little ones to a day full of workshops and fun.
This Sunday, Statens Museum for Kunst (National Gallery of Denmark) is offering a great variety of projects. The children can create a giant painting with other kids, make their own sculpture or learn more about drawing!
If they are more interested in the permanent exhibitions, then don't miss the kids tour that will discover the various animals in the artworks.
And then there is 'Match-SMK' – a game for the whole family!