News
Noel, meet Nord: CPH Zoo gets new male polar bear
---
This article is more than 6 years old.
Zoo hopes new addition is the answer to its much-publicised polar bear problem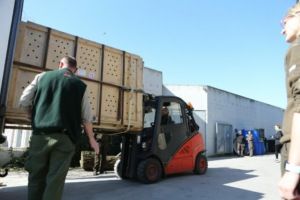 The Russian bear has arrived in Copenhagen. No, Vladimir Putin's troops aren't marching through the capital's streets just yet. Rather, Copenhagen Zoo has received a new male polar bear – sent from Russia.
The bear, named Nord, arrived at Copenhagen Zoo yesterday following a flight from Moscow to Frankfurt and a truck journey the rest of the way.
CPH Zoo veterinarian Mads Bertelsen was pleased with the bear and said that he would be introduced to the resident female bear Noel as soon as it was ensured he wasn't infected by any parasites or worms.
READ MORE: Copenhagen Zoo has a polar bear problem
A better match?
It is expected that Noel will shortly be in heat, and if everything goes well, the bears will begin mating soon. But that's an 'if' on shaky ground.
The zoo's previous male bear was moved to another zoo after it emerged last year that he wasn't a good match for Noel socially. Visitors to the zoo reported seeing the bears pacing back and forth – repetitive behaviour tends to suggest something is wrong.
"Our polar bears don't match socially," Bengt Holst, the scientific head at CPH Zoo, told TV2 News last year.
"They simply don't like one another, and particularly the female tries to avoid the male. And that is a problem. She often swims back and forth in the enclosure because she feels pressured."
Still, the zoo staff are optimistic, and looking at Nord's track record their confidence might not be too ill-deserved. The 11-year-old male has already fathered three bears in the past.
Visitors to the zoo will be able to see Nord in the Arctic Ring during the Easter break. Until then, you can check out his arrival in the video below.