News
What a beauty! Danish researchers purchase slice of famous Mars meteorite
---
This article is more than 6 years old.
Natural History Museum shells out for piece of 'Black Beauty'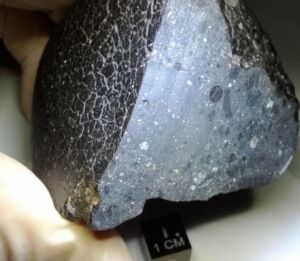 Only about 130 meteorites from Mars have been found on earth, and now a bit of one of the most famous examples has landed in the hands of researchers at the Natural History Museum (NHM) in Copenhagen.
The 44-gram piece comes from the meteorite NWA 7033/34 – popularly known as 'Black Beauty' – which was found in the Sahara desert in southern Morocco in 2011.
"It's very exciting. Black Beauty is very rare and special because it contains small pieces of the original crust of Mars," Martin Bizzarro, the head of the Centre for Star and Planet Formation at NHM, told Videnskab.dk.
"By studying it, we can acquire new knowledge about how Mars was formed and how it has developed. At 44 grams, it's the largest portion of Black Beauty that has been set aside for research, so it will be possible to answer a whole new array of questions and analyse things that haven't been possible before."
READ MORE: Denmark to invest millions into space activities
Meteoric price
According to Bizzarro, the price for a one-gram price of Black Beauty comes in at about 10,000 US dollars, so the value of the 44-gram piece was over three million kroner – although the researcher wouldn't reveal the exact figure paid.
Bizzarro did reveal that the Centre for Star and Planet Formation managed to reduce the price by offering some meteorites from NHM's own collection in trade, as well as using funds obtained from various foundations.
While Black Beauty was discovered in 2011, it wasn't until 2013 that it was ascertained that it was a Martian meteorite about 4.5 billion years old – the second oldest of its kind found on Earth. Previously, US researchers have used a bit of the meteorite to map Mars' historical climate
The researchers expect to be able to finish testing the meteorite by 2019 and make it available for exhibition at the NHM at that point.