News
Danish research: Male testosterone levels fall after marriage
---
This article is more than 6 years old.
The Danish word for being married is perhaps not too far from the truth after all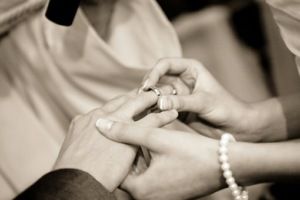 If you search for the word 'gift' in the Danish dictionary, you'll come up with two meanings. The first is as an adjective indicating that an individual has entered into marriage. The second is a substance that is damaging or lethal to living organisms: a poison.
It may sound awfully familiar to some men (and ladies), and now there is scientific evidence that may shed some light on this Danish literary oddity.
READ MORE: Simple urine test for prostate cancer developed by Danish researchers
Not so testy
A new Danish study from the city hospital Rigshospitalet has discovered that the testosterone levels of men plummet after they get married.
The research found that testosterone levels in men fell most dramatically during the period following them getting married, while the drop tended to be smallest following a period in which they went from being married to single.
"Testosterone plays a role in everything that defines a man," Anna-Maria Andersson, the head of research at the hormone lab at Rigshospitalet's Department for Growth and Reproduction and co-author of the study, told Videnskab.dk.
"It's quite amusing and it's a good picture of how much our hormones are impacted by how we live. The body acclimatises to the situation we find ourselves in."
READ MORE: New research: Danish women top stats for drinking during pregnancy
Ode to oxytocin
It is yet unknown what leads to the drop in testosterone from a biological standpoint, but one hypothesis is that the hormone oxytocin, which is released during loving caresses and extended eye contact, plays a role.
The hypothesis is that married men release more oxytocin than single men, and that impacts the levels of testosterone.
"It's speculation and we haven't had the possibility to measure the oxytocin levels in this study, but it makes sense that it can play a part when looking at it from an evolutionary perspective," said Andersson.
"It is of course necessary for the man to defend his wife and children, so you still need testosterone. But it is also necessary to modify your behaviour towards those you need to protect, and it's important to relate to your family and create social bonds."
Another concept is that the testosterone levels of men change because they are exposed to female pheromones when living with their wives.
Andersson said that for now the research would stand as an observation – one that many men and women are perhaps already aware of.
The research has been published in the scientific journal Psychoneuroendocrinology (here in English)