News
Danish government ushers in new pesticide plan
---
This article is more than 6 years old.
New strategy promises to tighten control and boost the environment by allowing safer pesticides into Denmark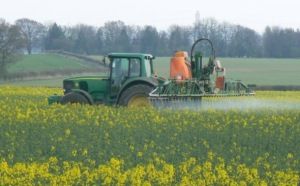 A vast majority in Parliament today passed a new agriculture bill that aims to improve the framework regarding pesticide use and reduce the impact it has on the environment.
The plan (here in Danish), which will encompass the next four years, promises to protect Denmark's groundwater, better monitor pesticide distributors, and crack down on the sale of illegal pesticides.
Furthermore, in an effort to prevent plants, fungi and pests becoming resistant to pesticides, the government and the parties Dansk Folkeparti, Socialdemokratiet, Radikale and Socialistisk Folkeparti agreed it should be possible to approve new pesticides that don't pose a risk to the groundwater.
"I'm pleased that we have come to an accord on an ambitious deal," said the food minister, Esben Lunde Larsen.
"We are continuing with our ambitious target to reduce the burden of pesticides and follow recommendations from international researchers by permitting more new pesticides that aren't harmful to our health, groundwater or environment."
READ MORE: Alarming levels of pesticides found in Danish children and mothers
More ≠ better
The agriculture sector has hailed the new agreement as a boon to Danish consumers that will ensure Danish food products will remain of the highest quality in the future.
However, left-wing party Enhedslisten (EL) doesn't find the strategy very ambitious – particularly the part about permitting new kinds of pesticides into Denmark.
Maria Gjerding, the spokesperson for EL regarding agricultural and environmental issues, believes the government has been too keen to accommodate the agriculture sector
"It's sad that a majority is backing a deal that permits larger amounts of pesticide in our drinking water," said Gjerding.
"It's completely unacceptable that we have to face more poison in our drinking water in order for agriculture to gain more pesticides in their production. The pesticide strategy is not just harmful to drinking water, but also to Denmark's nature and animal diversity."