News
A new kid on the biker club block
---
This article is more than 6 years old.
It remains to be seen whether the government's new 'gang package' will halt biker gang crime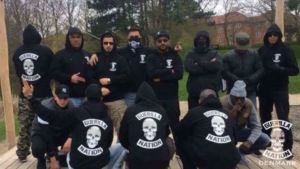 Despite the recent high-profile 'gang package' announced by justice minister Søren Pape Poulsen, yet another new foreign motorcycle gang has announce its arrival in Denmark.
Last month, the German gang Guerilla Nation opened a branch in Denmark, which it announced with a Facebook page for its 'Danish brothers'.
Since 2013, a total of eight foreign biker gangs have become established in Denmark.
READ ALSO: New law proposal to shut down gang fortress
New clothes, same old faces
Despite not having existed long (it was founded in 2015) Guerilla Nation has a reputation for violence, having made headlines in Germany for assassinations, violent crime and drug-related offences. Danish police are keeping a close eye on the newcomers.
"It's early days yet, so it is difficult to say very much, but we have been tracking them for some time and can see that there are familiar faces from other gangs popping up around this group. For us, it's old faces in new clothes," Michael Kjeldgaard and inspector from the national investigation centre (Nationalt Efterforskningscenter), told TV2 Nyheder.
Kjeldgaard admits that the arrival of the new gang could cause a stepping-up of hostilities.
"When new groups arrive, it can cause conflicts if they want to become a power-factor in an area such as drugs or criminality in general. When a gang is part of an international group, it can also be that they feel that they have to go out and show the mother club what they're made of," said Kjeldgaard.
Bad place for bikers
Poulsen is more dismissive of the new gang. "They can't have been following the Danish media. They'll have to deal with the effects of the new gang package and we'll do everything we can to chase them out of Denmark again. Denmark is a really bad place to be a gang member – not least in future when we come after them with the new package," he said.
The new gang package includes 35 initiatives, among which are a minimum of two-year prison sentence for possession of weapons and tougher punishments for using firearms in public.