News
Mapping Denmark's irreplaceable cultural environments
---
This article is more than 6 years old.
Architects and historians have been travelling round Denmark looking for "irreplaceable cultural environments", which covers everything from town centres to factories, empty warehouses and parks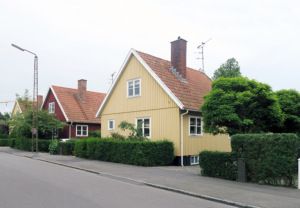 A group of architects and historians from the Aarhus School of Architecture have been travelling round Denmark since autumn 2015 to evaluate and map irreplaceable cultural environments.
In terms of the study, 'cultural environment' is taken to mean a geographically-defined area, which reflects important characteristics in societal development.
That means that we're not only talking about single buildings or elements such as mills, barrows or manor houses, but whole areas such as villages, factories or fishing hamlets, where there is a historical connection between the building and the location.
READ ALSO: Nørrebro urban park wins Aga Khan Award for Architecture
It is vital that this narrative is visible today and is a part of the identity of the municipality and creates awareness of our common historical heritage.
Bornholm has most so far
Of all the 22 municipalities visited by the group, Bornholm was the place which had the greatest number of unique environments. Among the places listed were the Swedish houses, a collection of around 300 Swedish wooden houses given to the island by Sweden after it was bombed in 1945.
Project leader, Simon Ostenfeld, told DR Nyheder that "we evaluate the potential and value of an area and first and foremost, this is designed as a tool to enable the municipality to include cultural environments in their strategic planning."
Good for marketing as well as planning
Perhaps unsurprisingly, Bornholmers were very pleased with the new report. Chairman of the municipality's technical and environmental committee, Carsten Scheibye, hopes that it can be used to help market the island to tourists. But, he says, "most importantly of all, we hope that through this project we can obtain input on what we need to preserve and protect – and how we should develop Bornholm in general."
The group has evaluated 900 cultural environments in Denmark to date and 21 of them have been given the status of "irreplaceable cultural environments". More may well follow.
You can check on the map (here in Danish) whether your municipality contains cultural pearl.