News
Denmark and OECD cosy up on globalisation
---
This article is more than 6 years old.
Secretary general Angel Gurría in Copenhagen in preparation for June summit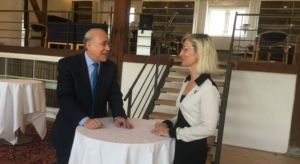 The minister for development, Ulla Tørnæs, yesterday met in Copenhagen with Angel Gurría, the secretary general of the OECD, regarding the upcoming OECD summit in Paris regarding issues pertaining to globalisation.
At the Paris summit held on June 7-8, Denmark will have the presidency under the title 'Making Globalisation Work: Better Lives for All'.
"Denmark has chosen a very important political subject for our presidency of the OECD ministerial summit," said Tørnæs.
"Globalisation has contributed to lifting over a billion people out of poverty, but may also view that the benefits and pitfalls are not justly dispersed."
READ MORE: Denmark handed OECD presidency for 2017
OECD critical
Tørnæs maintained that globalisation was an essential discussion for Denmark and the rest of the international community, and the OECD had an important role to play.
Gurría also met with Danish PM Lars Løkke Rasmussen, and the Danes also held discussions with OECD advisers regarding labour market issues.