News
Wilson Kipketer could lose world records due to contentious EAA proposal
---
This article is more than 6 years old.
Athletics association looking to scrap records set before 2005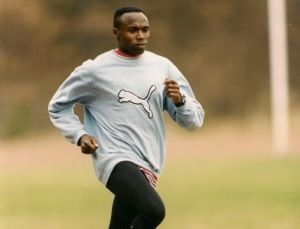 Kenyan-born Wilson Kipketer, one of Denmark's most beloved track and field heroes, still holds the indoor world records for the 800 and 1,000 metres. However, while all records are meant to be broken, Kipketer's records may suffer a less glorious demise.
In a new proposal that has been described as being "revolutionary" in the fight against doping, the European Athletics Association (EAA) is looking to scrap most of the world and European records set before 2005 unless they fulfil a number of criteria.
"What we are proposing is revolutionary, not just because most world and European records will have to be replaced, but because we want to change the concept of a record and raise the standards for recognition to a point where everyone can be confident that everything is fair and above board," said Svein Arne Hansen, the president of EAA.
"Performance records that show the limits of human capabilities are one of the great strengths of our sport, but they are meaningless if people don't really believe them."
The International Association of Athletics Federations (IAAF) only began storing blood and urine samples since 2005, which means that most records set before then are in the line of fire and in danger of being scrubbed.
READ MORE: Danish athletics: on track for future success or forever in the shadow of football?
Wilson's woes
The proposal, which comes in the wake of the Russian doping scandal, has attracted intense criticism from a number of athletes who hold records set before 2005, including Denmark's legendary middle-distance runner Wilson Kipketer.
Kipketer holds two indoor world records in the 800 and 1,000 metres and a European record in the 800 metres – which he set in 1997.
"It is a shame, unfair and an insult," Kipketer wrote tersely on Twitter.
Other record holders to blast the proposal include Colin Jackson and Paula Radcliffe, while other holders of records set before 2005 include Mike Powell, Hicham El Guerrouj and Florence Griffith-Joyner.
The proposal
The EAA proposal states that world and European records can only be recognised if:
1) the performance is achieved at competitions on a list of approved international events where the highest standards of officiating and technical equipment can be guaranteed
2) the athlete has been subject to an agreed number of doping control tests in the months leading up to the performance
3) the doping control sample taken after the record is stored and available for re-testing for 10 years