News
China to grill up on Danish sausages and watch more of its films
---
This article is more than 6 years old.
Decade of negotiations finally pays off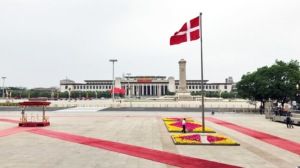 The environment and food minister, Esben Lunde Larsen, has announced that Denmark has signed an agreement for Danish heat-treated pork products to be exported to China.
China already imports large amounts of Danish pork, but following years of negotiations, Chinese consumers will in the future also be able to enjoy Danish heat-treated pork products such as sausages and sandwich meats.
"This is a significant agreement that we have signed today at the Great Hall of the People at Tiananmen Square," said Larsen.
"Soon, good Danish sausages, red weiners and pork will be on the way to China, which is important to export earnings and jobs in Denmark. I know that the food industry is very pleased about the new opportunities, and so am I."
Larsen said the negotiations had lasted over a decade because the Chinese authorities wanted to ensure that the food product security was at the highest possible level.
According to the food industry, the deal could be worth upwards of 250 million kroner a year in export income.
READ MORE: New voyage of the friendship between China and Denmark
Film agreement
In related news, Denmark is the first Nordic nation to enter into a co-operation agreement with China concerning the countries' film industries.
The deal will provide film producers with better conditions to gain access to national film support and cinema markets in the two nations.
For instance, a Chinese film production can now apply for funds from the Danish Film Institute and, critically, Danish films co-produced with China won't be included in a quota that stipulates only 38 foreign movies may be shown in China each year.
"The agreement can become very important for both parties, both financially and culturally," said Henrik Bo Nielsen, the CEO of the Danish Film Institute.