Things to do
I, Daniel Barenboim: Continuing to wow audiences with his Middle East orchestra
---
This article is more than 6 years old.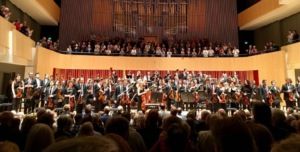 As part of its duties as the 2017 European Culture Capital, the Danish city of Aarhus invited the West-Eastern Divan Orchestra, led by world-renowned Israeli maestro Daniel Barenboim, to perform at its fantastic Musikhuset in a dazzling triumph of music for peace.
Small roots, big branches
Originally conceived in 1999, co-creator Barenboim saw a need to create a workshop to encourage equality amongst musicians from countries across the Middle East that are struggling with war and conflict.
But after receiving over 200 applications from the Arab World, he quickly realised it wasn't just a workshop, but an orchestra.
"It's not a political project, it's a humanitarian idea," he proudly said at an intimate press conference on the afternoon of the concert.
"[The orchestra] provides something that doesn't exist in the Middle East: equality of all rights, through music."
The orchestra has members from all over the Middle East, including Israeli Jews, Palestinians, Iranians, Syrians, Egyptians, Turks and Spaniards. The maestro himself speaks a multitude of languages and has four citizenships (Argentina, Spain, Israel and Palestine).
Showtime!
Musikhuset Aarhus's stunning Symfonisk Sal, constructed in 2007, was a sold-out and packed hall on the evening of April @.
Dressed to the nines, Danes and foreigners alike sat in eager anticipation – and were definitely not disappointed. Barenboim expertly led as the orchestra wafted through the many mood shifts in the four movements of Mozart's 'Symphony No 40'.
The audience followed cello soloist Kian Soltani as he commanded attention along the journey of Don Quixote in Strauss's 'Opus 35', displaying his mastery for his art through his effortless execution.
The performance was met with no less than ten minutes of standing ovations with thunderous applause, and to the audience's delight was coaxed into a playful encore – Barenboim humbly bowed as he appeased: "Alright, alright, one more!"
The universal language
Although the musicians recognise this has been a controversial endeavour, they support that the project aims to bring people together.
"We are coming here for a common goal," said Tyme Khleifi, a 27-year old violinist who has been playing with the orchestra since 2004.
"We are citizens, we have civic engagement, but at the end of the day we try to play music well and do it in a way that creates a community among us. And that's a strong message."
Discover more here.