Things to do
Late May Art: Culture is the car's new sphere of influence
---
This article is more than 6 years old.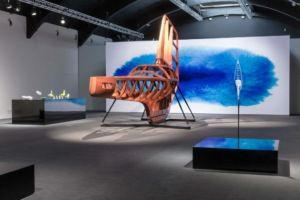 Spheres
May 13-Aug 21, open Tue-Sun 10:00-18:00, Wed 10:00-21:00; Designmuseum Danmark, Bredgade 68, Cph K; 100kr; designmuseum.dk
For acclaimed product designer Alfredo Häberli, the future of vehicle development is not limited to assembly lines and precision, but will involve the sharing of culture and poetry.
Voted designer of the year in 2009 by A&W Magazine, Häberli's designs have been on display in several exhibitions throughout Europe during his 16-year tenure as a product designer.
In his exhibition Spheres – Perspectives in Precision & Poetry for BMW, Häberli teams up with the automaker to show the relationship between the beautiful and the ugly and how you can be both an artist and an engineer when creating cars.
Using the drive between his home in Switzerland through the Swiss Alps to Italy as his inspiration for mobility and the mountains as his landscape, Häberli has envisioned new shapes for designing, changing the way we view movement. His goal is to use an unrestrained way of thinking to reimagine the way we use everyday items, such as the car.
First showcased in Milan in 2015, Häberli's installation displays sketches, childhood memories and a large-scale model that conceptualises the future of space and mobility.
For Häberli, poetry is essential to how we see beauty, and making it come alive through the accuracy and precision of car manufacturing is the focal point of this exhibition.
Portrait Now!
May 11-July 30, open Mon-Sun 10:00-16:00; Danish National History Museum, Frederiksborg Castle, Hillerød; 75kr; portrait-now.com
Find a human connection in unfamiliar faces at Portrait Now!, which will showcase the best photographs/paintings entered in the Nordic competition.
Academy of Tal R
May 20-Sep 10; Louisiana, Gammel Strandvej 13, Humlbæk; 125kr; louisiana.dk
Danish artist Tal R has been making waves in the global art world and now you can indulge in his humorous  provocations at Louisiana Museum where his whole collection will be on display.